This page details a trip to New Zealand I took in November 2000 with my brother & sister. Here you'll find a quick overview of New Zealand and photos from the north and south islands.
Fun facts about the land near the land down under
New Zealanders ( or "Kiwanis," as they preferred to be called) speak a language that is much like American english, except that every seventh word is replaced by a string of syllables from a Doctor Seuss book. Generally you can pick up the meaning from context, but just to be safe, if you're heading to New Zealand, be sure to be familiar with the following words and their meanings: burmalung, tsipote, maori, and wanaka.
Surprisingly, the average New Zealander knows very little about Old Zealand. One guy we met didn't even believe that such a place existed until I showed it to him on a globe.
New Zealand cuisine is one step above British food, and by that I mean to damn it with faint praise. It's not THAT bad, but trying to get something served even remotely spicy is like pulling teeth. I suggest bringing your own bottle of Texas Pete along. You might pack some ketchup as well, since what they serve is "tomato sauce," which is ketchup minus vinegar minus salt.
MY island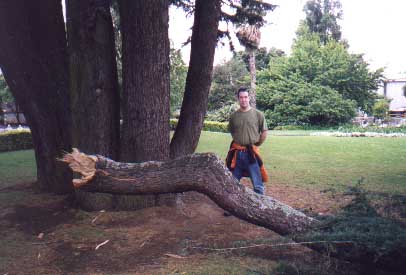 Tom trying (and failing) to look innocent immediately after breaking a limb off of New Zealand's "Tree of Life." The tree was centuries old and planted by the first European to set foot on the north island, Rear Admiral William Zeal of the H.M.S Sanchez. Shortly after this photo was taken we declared diplomatic immunity and fled to the south island.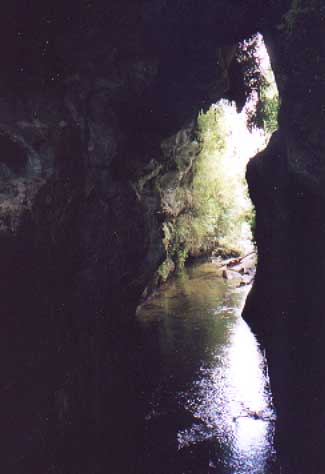 Mangapohue natural bridge, a few miles west of Waitomo's famous glow worm caves. Although the bridge is only a few yards from the parking lot, getting to the bridge took us over an hour, largely due to Tom's "walkways are for sissies" navigational strategy. After crossing a few barbed wire fences and scaling a sheer rock face, we backtracked and arrived at the bridge. Note, however, that although the bridge itself is natural, the giant hole under the bridge and the river that flows through it are both man-made.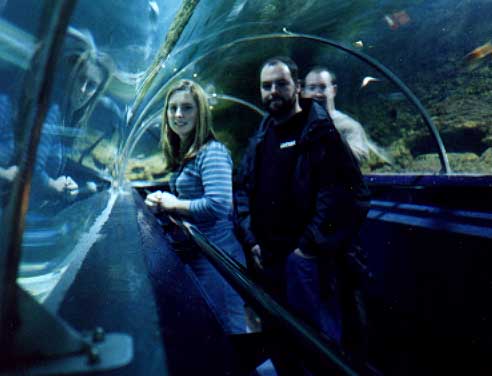 A group shot inside one of the observation tubes at Kelly Tarton's supermontastic Antarctic extravaland. The giant aquarium features a network of habitrail-like tubes with moving side walks in them. You just stand there and are shuttled along the tubes, with a 180 degree view of sea life overhead. The real question is, who's really on display here?...Are you watching the fish, or are the fish watching YOU? The real answer to the real question is that the FISH are on display, of course. Why? because they're just #%@&ing fish, after all.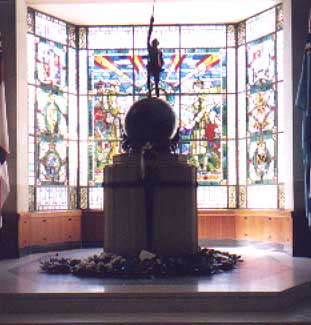 New Zealand's war memorial on the top floor of the Auckland Museum, located in, of all places, downtown Auckland. This statue commemorates those kiwis who were killed in service during World Wars I and II. It also recognizes all those who fell during New Zealand's brief war with Sweden in the 1970s.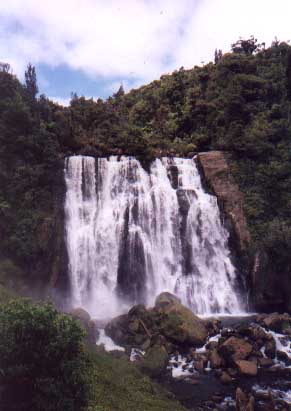 Marokopa Falls, found after getting lost on our last day in New Zealand.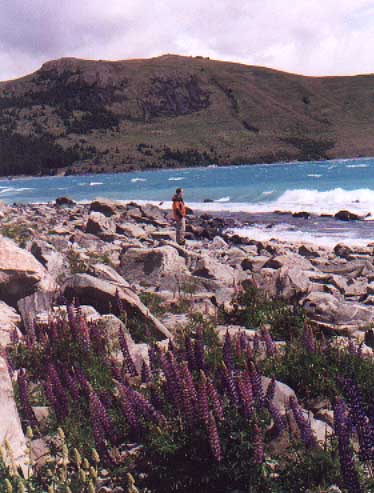 Tom, a lake, and a bunch of lupins. The lupins were imported from England and proceeded to cover pretty much everything. If you don't like lupins, avoid the south island.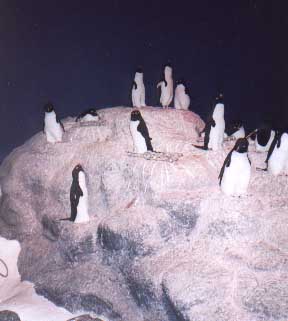 Fake penguins at the Antarctic Museum in Christchurch. Much more photogenic than real penguins.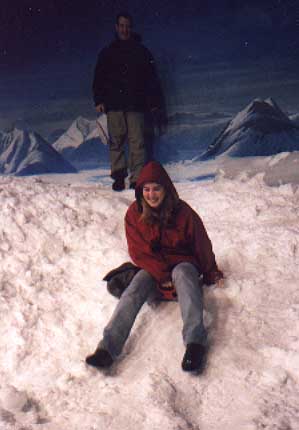 Sledding in the Antarctic Museum's giant snow chamber. The "sled" was essentially a pizza pan with a makeshift handle slapped on. Afterwards, Laura was heard to say "this... isn't fun."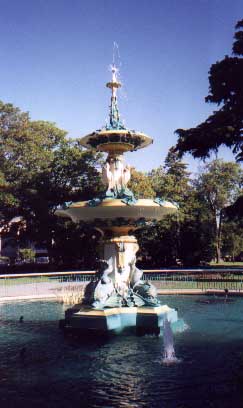 Fountain at the botanical gardens in Christchurch. It was much more spectacular about two seconds before I took this picture. Fire hydrant volumes of water were spewing out in all directions, sparkling lights were shining in the water, and "wee people" dressed in festive garb were dancing about in the foreground. Also, the water was full of eels. Electric eels. Electric eels with bees in their mouths.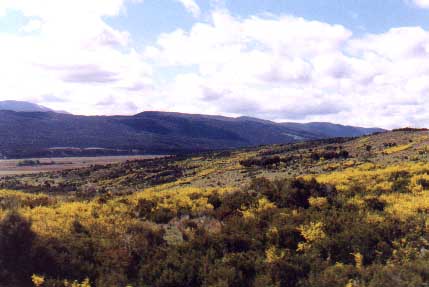 A hillside covered with Scottish broom (the yellow stuff). Scottish broom, much like the lupins, was imported and proceeded to cover everything in sight. There's actually a big biological battle going on right now, as the Scottish broom and lupins fight over the same soil. Alarmingly, both the broom and the lupins have well-advanced nuclear weapons programs.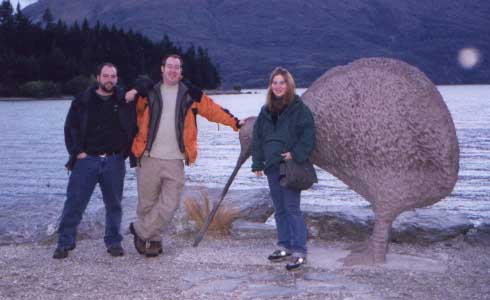 The three of us and a statue of a prehistoric giant kiwi bird. Heck of a bill on that thing. Thankfully the giant kiwis are extinct, and only the miniature variety remains today. There's just something unsettling about a bird that big.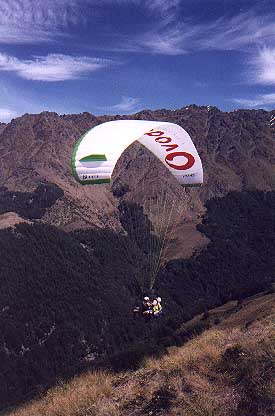 Unidentified people parasailing in Queenstown. Queenstown has a lot of X-treme / adventure type activities, and is home to the world famous Jet Boats. For about \$200 NZ you can jump off the side of a mountain with a parasail and an instructor, and it seems pretty popular. Jumping off the side of a mountain WITHOUT a parasail or instructor is apparently free, albeit less popular.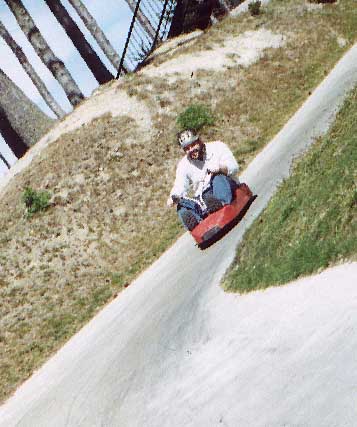 Myself, while luge racing in Queenstown. It's like an American alpine slide without the lawyers to take all the fun away. You go much faster, you can pass, and you can quite possibly break something. Note the very steep slope of the track. This photo was taken immediately after a daring and questionable passing move which put Tom into the wall for a nasty spill. "Rubbin's Lugin'," I say.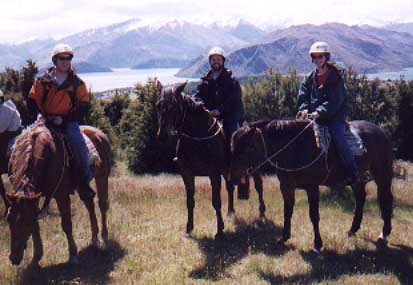 We took a quick horse ride up Iron Mountain near lake Wanaka. About 100 yards from the top, we hitched our horses and walked to the overlook at the top, frontin' to some hikers that we had walked the whole way. Suckers.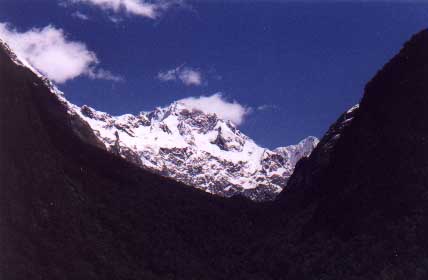 Glacier near Franz Josef. We stayed at the Glacier View Hotel, home of the world's worst restaurant ever.


Up to the top

Back to the travel page

Check out Alaska part I