V-8 Powered Opel GT : Market survey
This page contains links to V-8 powered Opel GTs I've seen for sale over the years. I thought I'd archive the ads as I find them to try to get a long-term sense of the market for these cars. The ads on this site are from four primary sources:





Note that it pays to search for "Opal GT" every once in a while... it seems to be a common misspelling, even amongst those who own one. I generally search the above sites about once a week, on average 2-3 V8 Opel GTs come up for sale each month. I also check out race-cars.com's drag car section and Streetrodding periodically, though they have a bit less traffic. I save the ads as I see them but I'll probably only update this page every few months or so. Comments and assorted thoughts are most welcome and should be sent to "smspam @ comcast.net" with "Opel GT" in the subject line.




I've sorted the ads into three somewhat-arbitrary sections:



Pro-street: Mostly-finished cars with concessions for street use (lighting, wipers, finished interior, etc.). Most expensive, but fastest way to get on the road.
Drag: Drag cars, typically heavily gutted and tubbed. A bit more affordable than a sorted pro-street car, but with more work left. At least the hard part (chassis mods and motor mounting) is already done.
Project: Cars with a significant amount of work remaining. The most affordable (in the short term, anyway). Prepare to surrender your weekends.
The format for the listings is:
Website, Date, Price*
My comments about the listing, where applicable
The original ad text in italics (verbatim, other than the removal of contact info)
As of 9/07 I've started including the ad/auction number when available. This will allow you to track down the seller's contact info if the item is still listed. Beyond this, I don't retain any additional information about the sellers, so if you're interested in purchasing one of the cars listed here your best bet is to try and track them down through the site the ad appeared on.

*NOTE: It's very common for the asking price to drop periodically, since people seem to initially price the cars based on what they've spent, and they just aren't worth that much. With the exception of the E-bay cars, though, I have no way to tell what sold and what didn't, or for what price. If the same car was listed multiple times, that's mentioned as well.
General Observations
As mentioned above, most cars don't sell for the original asking price. It takes a lot of work to shoehorn a V8 into the unibodied Opel GT, and as with all modified cars, people don't put too high a price on someone else's labor. An immaculate pro-street car will have a hard time breaking $25k, regardless of how much was spent on it. A well-sorted drag car can be had for under $15k; under $10k as a roller. A half-finished project is worth a few grand at most. For comparison, well-restored stock GTs seem to go in the $5-7k range. Building a V8 Opel GT is a labor of love, not an investment. Buying an already finished one is a tremendous value. I'd have bought the green "WOW" car below in a heartbeat, if I'd had the spare money, time, and garage space. You couldn't recreate that car for twice the high bid and then some.




So there you have it. If you're thinking of buying, scan the ads below to get a sense of what things are worth. If you're thinking of building, scan the ads below for ideas and to get a sense of what you're getting into. And best of luck with whatever path you choose.
---
Pro-Street Cars
---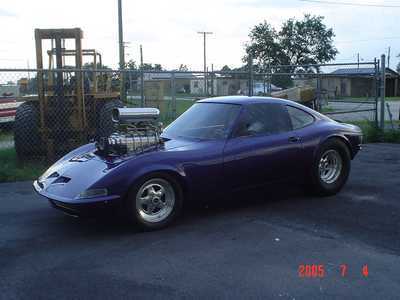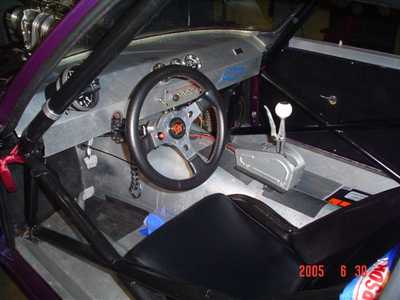 Racingjunk.com, 9/05. Seller was asking $22K
This one looked really clean, they did a good job opening up the rear wheel well and matching it to the larger tires.
Full chassis, blown SBC, TH 350, Dana 60, Weld Pro-stars, Tube A-arms, Coil overs front and rear, Wheelie bars, Beautifull headers, Very nice interior and a AWSUME PAINT job with GHOST FLAMES!!! This is a pump gas car with a title could be made streetable!
---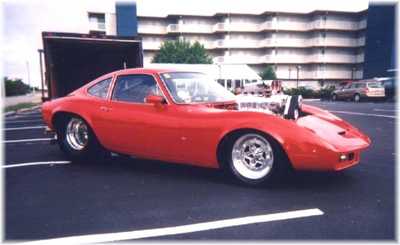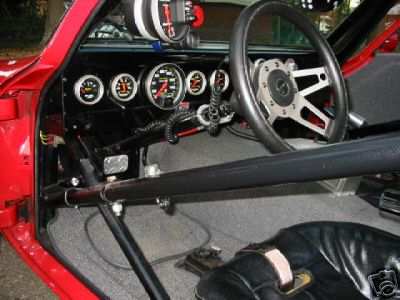 Racingjunk.com, 9/05. Seller was asking $50K.
Listed on E-bay 11/05, not sold at $40K
listed again on Racingjunk.com 3/06 asking $40k
Listed on E-bay 4/06 with starting bid of $35k

This one has been up for sale a few times. One of the nicest ones I've seen, very well done. IMHO this gives an indication of the max price you can hope to get for a pro-street V8 Opel GT.
Steel Body, Fiberglass Front End, Factory Glass, Rollup Windows, Head and tail lights, blinkers, horn, wiper motors. Bright red exterior, grey tweed finished interior, Auto Meter Oil Filled Gauges, incl. fuel tank, boost, oil pressure, water, oil, and trans temps, and amp. Parachute and wheelie bars. Full round tube chassis built by Dominic Carpenter, Strut front end w/Rac&pinion steering, removable steering wheel, 4whl disc brakes w/solid slotted drilled rotors, 9" Ford 4 link rear, adj coil over shocks. Strange center section, spool 4/10 gear ratio, 35 spline Strange axles, 5/8's studs. Fully tubbed w/Mickey Thompson ET 32x17x15" street slicks on 15x14 rims, Mickey Thompson front drag tires on 3x15 rims. Weld Aluma-Star two piece 5 spoke wheels. 509 cubic inch blown injected motor built by Bernie Day, gasoline powered, Chevy bowtie block, 43-40 Callies Crank, Oliver pro mod H beam steel rods, JE blower pistons, Isky 680 lift flat tappet cam, Milodon timing geardrive, Dart 365 heads completely reworked by Sonny Leonard, complete Jessel valve train stud girdle w/Jessel roller-rockers. 871 BDS Stage 2 Blower, complete Kinsler fuel injection w/bug catcher, complete fuel system diagram from Kinsler w/flowtest. Clark copper head gaskets, in-car Kinsler Jet Selector Valve, New Waterman belt driven fuel pump w/shut off valve on motor, flowtested. Barry Grant electric fuel pump on fuel tank, CSI electric water pump, MSD 6-A ignition, MSD Boost Timing Master, Moroso fabricated aluminum valve covers, Hamburger 12 qt oil pan, steel braided hoses, fuel lines and fittings. TCI 400 turbo w/reverse manual valve body, transbrake. ATI blower converter 4500 stall, B&M ratchet shifter. Car has never been competitively raced, but has had a few passes, best time 8.40 @ 165 mph.
---
Ebay, 12/05, bid to $11,800 which didn't meet the reserve
I thought this one was very well done, dropped over the rear tires to give it a nice stance.
Opel GT not a 69 corvette racecar prostreet chevy big block I am listing this car this car for a friend so please call him with questions or comments. You are looking at a Opel GT bodied street car. It has an Alston full tube frame,4 link rear suspension with Ford 9" and 3:50 posi gear,4 bar front tube axle,coilover shocks front and rear,vega steering box,4 wheel disc brakes,8 pt. roll cage. Drivetrain consists of a built 4bolt main 468 cu in chevy big block engine with hyd. cam,roller rockers,oval port heads ported and polished by AFR,Edelbrock airgap intake,custom headers and exhaust system,Holley HP850 carb,MSD ignition,runs on pump gas no problem. Sounds great and makes plenty of power but is driveable. The engine is backed by a turbo 400 trans with 3500 rpm stall.The wheels are made by Weld and rear tires are 17.5" wide by 32" tall and they are under the body. This car is street legal and turns heads wherever it goes, you will not see another one like it at the local cruise night. There is more to the car so please call Terry for more info. You could not even look at this car for the reserve price that is being set. Good luck bidding!!
---
RacingJunk.com, 1/06, Asking $13,000. Seller did not respond to request for pictures.
1970 Opel GT Pro Street This car is 90% complete & every part is new Chassis - 4 link coil over 9" ford diff Wishbone trakc locator, 410 posi, 6 pt.roll bar, Alum.tubs & interior Engine - sbc 383 stroker, 4340 steel crank, H beam rods Forged alum.pistons, Edelbrock alum.heads, alum.intake,MSD dist.,alum.water pump, hyd.roller cam.,2 speed powerglide,2800 stall convertor.Griffin alum.rad, weld draglites mt pro on rear, Alum.rad Holley pump Motor makes 450 hp. Build cost over $25,000
---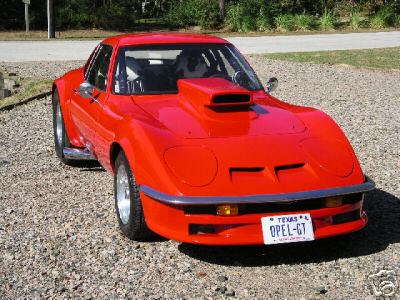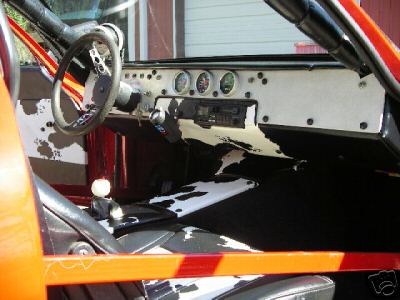 Ebay, 2/06, bid to $25,800 which did not meet the reserve
relisted on E-bay 9/06, bid to $38,100 (!) which did not meet the reserve
Another clean, well done car. I'm curious as to what the reserve price was.
1973 Opel GT pro street machine. Powered by a professionally built, blueprinted & balanced 327 small block Chevy. It has a steel crank, a Slayed 4 bolt main, Probe pistons, phase 6 aluminum heads that are ported & polished, roller cam, roller lifters, roller rockers, Eldenbrock Victor Jr. intake, Holley 750 doulbe pump carb., Unilite distributor, MSD 6 AL., Hooker super competition headers, 4 speed Muncie, Lakewood scatter shield, Hayes clutch & pressure plate, hydrolic clutch, 10 bolt Chevy rear end with Alburn posi with a 488 ratio, forged steel axels, four link with coil overs, 4 wheel dick brakes with rear emergency brake, new 31"x16.5"x15" Hoosier pro street radial tires, new 14" front radial tires, all mounted on Weld wheels. It also has new flame red paint over custom made fiberglss flairs and hood, full body interior with auto meter gauges,stock Opel glass. Runs and drives great. Respectably fast! Tx. licesened. registered and insured.
---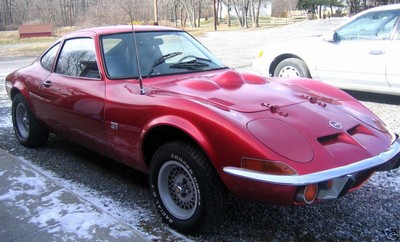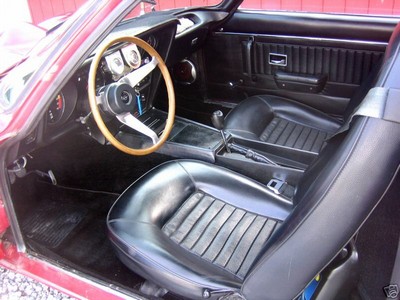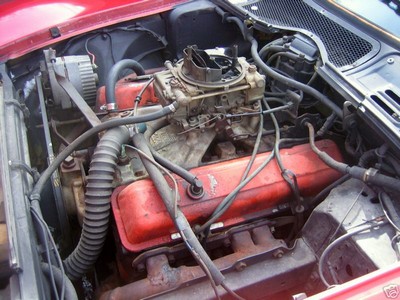 Ebay, 2/06, Sold for $6,500
Relisted on Ebay 9/06, sold for $5,000
Note that the stock "cockroach" bump in the hood was mirrored on the other side. Additional middle bump added as well for clearance. IMHO someone got a good deal.
You are bidding on a 1970 Opel GT with a small block 327 Chevy Corvette motor. Motor is bored 30 over, true dual exhaust, high pro cam, custom headers, 650 Holley Carb. 350 turbo trans. w/ shift kit and a Saturday Night Special converter. Many new parts: Brakes, rotors (front and rear), outer tire rods, tires and battery. Car runs very strong and fast. Headlights flip up with ease. All lights work. Some cracks on dash, typical of Opels. There is a dash cover on it that looks great! The rest of the interior is in exellent cond. New carpets.
---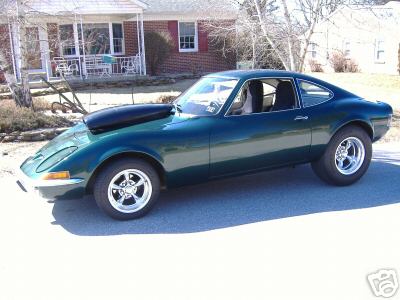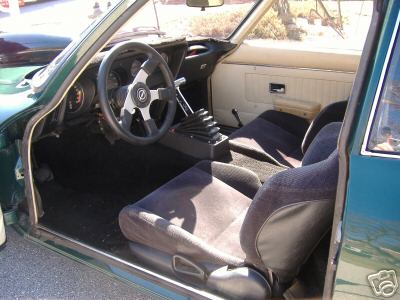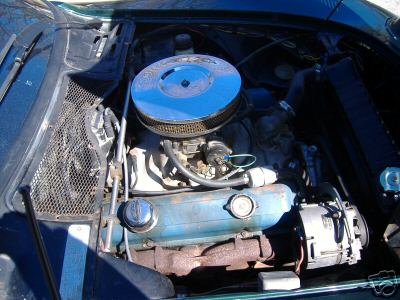 Ebay, 3/06, Bid to $8,700 which didn't meet the reserve
Relisted 4/06, bid to $5,200 which didn't meet the reserve
Clean install, could almost pass for stock under the hood. No obvious roll cage or other reinforcement, but the torque tube would help mitigate the need for those.
This is a 1972 Opel GT Semi-Pro-Street. It has a 350 with mild cam and 350 Turbo with shift kit newly rebuilt with new 3000 stall converter just installed. With B&M Star shifter. It has a Ford 9" rear narrowed with drum brake with a center link ladder bar torque tube from the rear end to the rear motor mount. When the transmission was replaced the emergency brake was taken out for clearance reasons. I was going to replace it with the emergency brake on the drive shaft. Stock GM exhaust manifolds with custom dual exhaust. All light lenses and head lights are new. I was going to put them in when the car was redone. It also has an almost perfect front bumper and 2 rear C shaped trim pieces around entire rear end. The seats are from an Acura that are retro fitted in the car. The rest of the interior needs redone. The dash is cracked like 95% of all Opels. The carpet is available from OpelGTsource.com. New parts included are: Windshield and rubber, Rear window rubber and a Radiator with extra cores. New American racing wheels with Mickey Thompson ET Street legal slicks. The front wheels are 14 x 6 with 185/60 x 14 tires. The rear wheels are 15 x 10 with 275/60 x 15 tires. I have quite a few extra parts to refinish or rebuild that will come with the car. I was going to install them after the car was rebuilt. Including a sport comp speedometer, tach, water, oil and fuel gauges. There is no radio in the car. The hood scoop is a 7 inch pro-stock bolt on that was never painted. There are two small rust spots. One on the passenger floor about the size of a half dollar. And on the right rear quarter panel at the rear of the tire. That is about the extent of it. It is very minor. This car is fun to drive and gets more attention at cruise night than my 69 Camaro R/S did. It has more than enough power for a car to run on the street every day if you wanted to.
---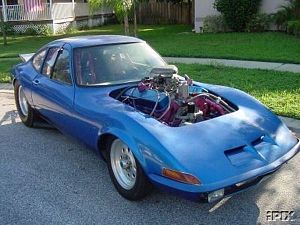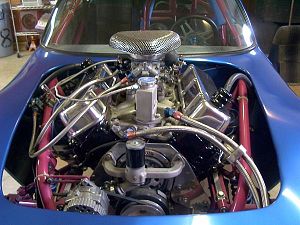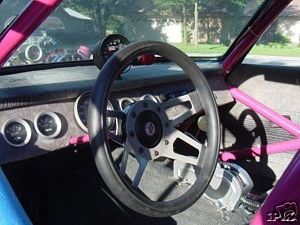 race-cars.com, Unknown date, $11,500
One of the most unique and best engineered cars in the nation. PRO STREET, but very comfortable on the track. Features all steel body, on a full race tube chassis. Interior is fully upholstered, including headliner. Very unique cooling system! Has valid U.S. title. Car is complete, with A1 trans and BB Chevrotet engine. A complete 1972 Opel GT (for street parts) is also included. Divorce forces sale - my loss is someones dream come true!!!! Engine * Engine Builder: BE Racing * Manufacturer: Chevrolet * Displacement: 482 cid * Induction: Edelbrock manifold with 850 Holley * Pistons: 12:1/2 : 1 JE * Camshaft: Lunati roller/Jesel belt drive * Valves: Stainless * Valve Train: lunati roller * Exhaust: Hooker headers and mufflers Fuel System * Fuel Cell * Manufacturer: Harwood * Capacity: 10 gal. Oil/Water System * Radiator: aluminum rad * Water Rad Location: front cowl * Water Pump: Dedenbear electric * Oil Cooler: fan coolers * Oil Cooler Location: front cowl Electrical System * Ignition: MSD 7AL * Alternator: yes * Battery: two Transmission * Manfacturer: Chev * Type: A1Turbo 350 * Shifter: B M * Converter: 4000 stall speed Rear End * Manufacturer: Chev * Type: 12 Bolt * Ratio: 4:10 * Axles: Strange Body * Construction: all steel * Color: Blue * Condition: Excellent Chassis * Type: full * Builder: Swindell Racing * Condition: excellent * Front Suspension: Strange A-arms with Koni coil overs - rack and pinion * Rear Suspension: 4 link with Koni coil overs * Brakes: Wildwood disc * Steering: rack and pinion * Wheels: Weld wheels * Tires: 18.5 x 15 Sportsman Interior * Color/Finish: grey * Fire System: yes * Restraints: yes * Guages: Autometer * Steering Wheel: removable * Condition: excellent
---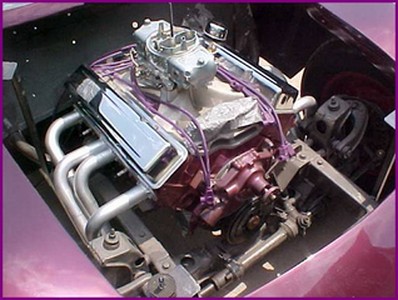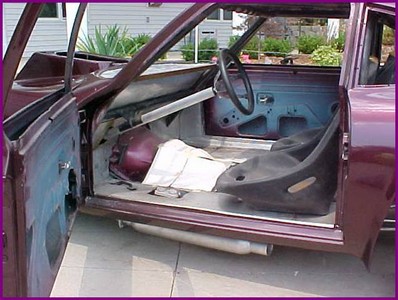 Streetrodding.com, 10/04, $10,500
A bit of work left to be done, but far enough along to keep it out of the "project" section.
1969 OPEL G.T. PRO STREET PROJECT Asking 10,500.00 ALL STEEL BODY! FIBERGLASS REMOVABLE FRONT END WITH REMOVABLE GLASS HOOD AND SCOOP. FRESH PAINT CLEAR COAT CHRYSLER COLOR. BOXED FRAME WITH NARROWED 9" FORD WITH 4.11 POSI. COIL OVERS WITH 4 LINK SUSP. FRONT DISC BRAKES, DRUMS REAR. CENTERLINE WHEELS WITH M/T TIRES. FRESH 355 CHEVY ENG. PERFORMANCE HYD. CAM.NEW EDELBROCK VICTOR MANIFOLD. NEW DEMON 750 CARB. NEW HEI ACCEL DIST, HEADERS, GLASS PACKS. REBUILT H.D. POWERGLIDE WITH HIGH STALL CONVERTER. B&M PRO RATCHET SHIFTER. AUTO METER GAUGES, CUSTOM MADE FUEL TANK. ROLL CAGE. I HAVE EVERYTHING TO FINISH PROJECT INCLUDING NEW IN THE BOX FRONT WIDSHIELD AND ALL OTHER GLASS IN DECENT SHAPE. FINISH IT YOUR WAY AND HAVE A SUPER LITTLE PRO STREET CAR! A PROJECT CAR FOR YOU TO FINISH. MOST OF THE HARD WORK IS DONE. TO BE SOLD AS SHOWN. FINISH YOUR WAY
---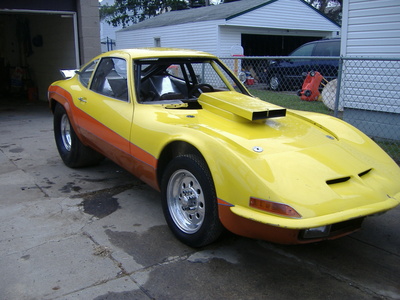 Racingjunk, 4/02, $6,500 as a roller
car was a old show car/gasser in the 70,s has a 9inch 33 sline axles 488 gears ladder bars,full frame,rack and pinion,i had the windsheild out in this pic,to have new one made it is back in now,car is not a perfect show car, but could be,has a few dings and dents,but overall is a very clean nice car,it was my street car last year and with a 355 about 400 horse it went low 11,s driven to the track,it is very light,people flip out when they see it, it is very small,im selling it rolling minus the motor and trans comes with everything else, 6,500 or poss trade,i also have another hood to fit a blower painted the same
---
Collectorcartrader, 5/06, $3,000
No pics for this one.
1973 OPEL GT, custom built Hi-pwr Ford 302 engine, 4 spd OD manual transmission, Ford 9 rear, too much to list, contact for pics & write up, sacrifice $3000
---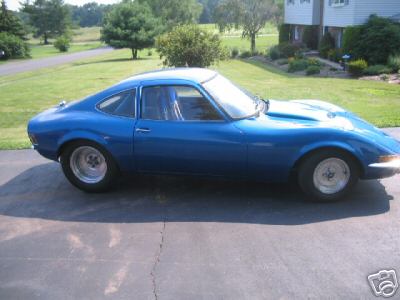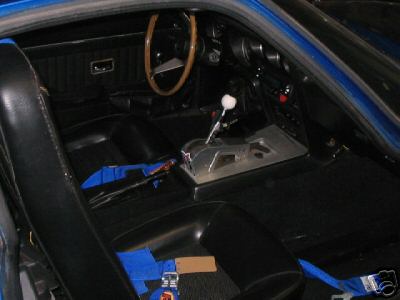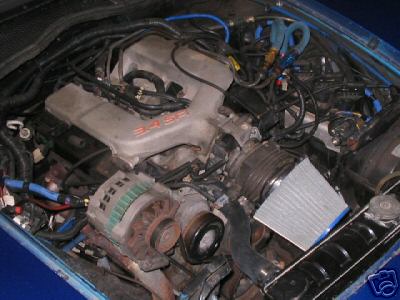 Ebay, 7/06, Sold for $6,100
A V-6, not a V-8, but custom enough to warrant listing here.
1973 Pro Street Opel GT 3.4 V6 from a 1995 Camaro 700r trans 8.8 Ford narrowed rear with 411 gears moser axles, you could drive this car daily gets 28 mpg . Turns heads everytime I drive it.
---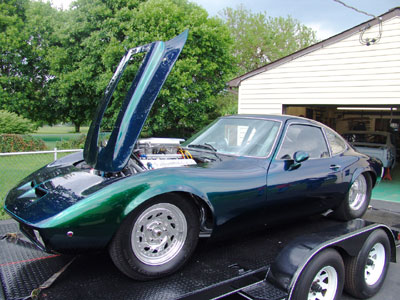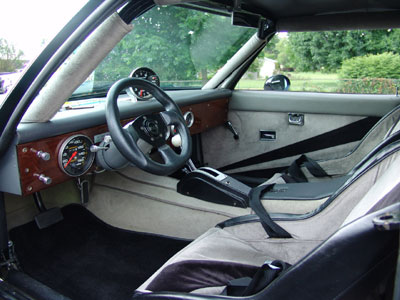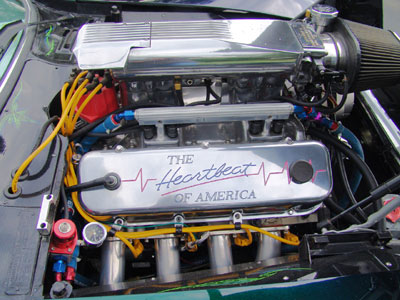 Ebay, 9/06, bid to $20,501 which didn't meet the reserve
relisted on Ebay 10/06 with a starting bid of $55,000; closed with no bids.
relisted on Ebay 11/06, bid to $20,200; which didn't meet the reserve
WOW. The nicest pro-street car to date. Incredibly well detailed with amazing paint.
NOTE: IF YOU KNOW THE WHEREABOUTS OF THIS CAR, PLEASE CONTACT ME @ gstephenm@gmail.com.
This pro-street brings more attention than a rare Shelby. It runs great on pump gas (92 octane) is fast, safe and comfortable. It was built by a professional that you will meet and talk to. Some of the highlights are listed below but do yourself a favor and talk to the builder. We are just posting it here for him and not making any money on this car. 71 Opel GT Pro Street 510 Aluminum Head motor runs on 92 Octane Lunati Hydraulic Roller Cam Polished Street & Performance fuel injection 4800 miles Heavy Duty 400 Transmission with TCI torque converter Fabricated Ford 9 inch housing with 3.89 Moser axles 4 Piston Wilwood Disk brakes all around Morison Stainless Steel front struts 18-Gallon custom aluminum gas tank QAI adjustable aluminum rear coil-over shocks Custom aluminum radiator Custom fan shroud with duel electric fans Centerline Warrior Wheels Mickey Thomson Sportsmen Pro rear tires Full-length custom chassis Four-Link rear suspension Numerous billet parts Gray wool carpet Custom Gray & Black interior Tilt Steering Column with Grant Wheel Black Walnut Dash 140 AMP Alternator
---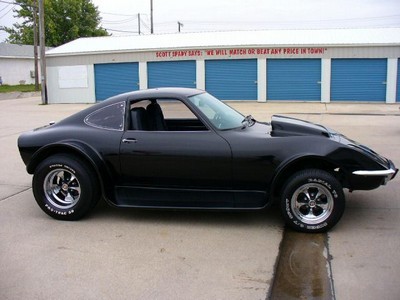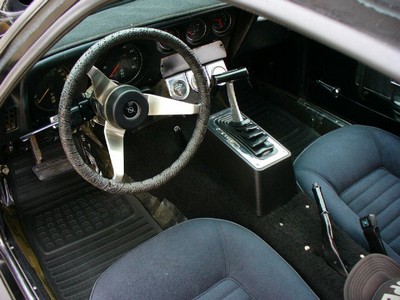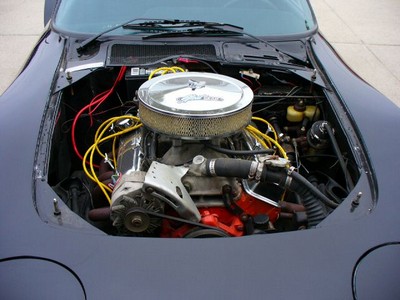 Ebay, 10/06, bid to $6,000 which didn't meet the reserve
Relisted 10/06, bid to $7,100 which didn't meet the reserve
SUPER FAST!!! High Performance EVERYTHING!! Reserve set for a steal! This car is a dream! It is one family owned. The family has invested over $15,000 into it!! It has a 350 V8 engine, dual exhaust, posi rear-end, 411 rear end, a Chevelle A frame, new window moldings, a rebuilt engine, Edelbrock 4 barrel carb and intake manifold, a fiber glass custom built body, B&M shifter, new tires 100%, garage kept, was never smoked in, super clean engine, chrome valve covers, Chevy orange engine, and Keystone Klassic Rims. Front Tires: Super GT Sport Radial 70 Tires P185/708/R14 Rear Tires: Pro-trac 50 Racing Profile Tires N50-15 The 4 switches in the dash they are: windshield wipers, fog lights, electric fan, and the killswitch. There is some bubbles in the tint. The only damage to the body that we could find was a small spot on the paint that looks like it will soon chip off. It is located on the front left fender by the bumper. Please look at pictures!! The odometer is broken so we cannot promise the miles; we only know where it stopped at. We are listing this as honest as possible. It really is an amazing car!
---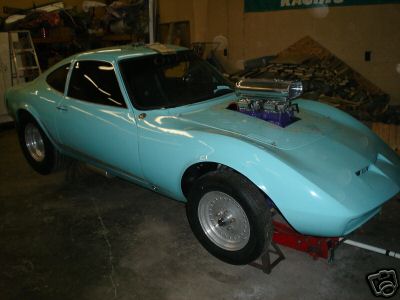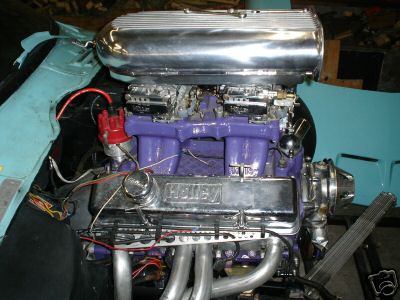 Ebay, 10/06, bid to $4,750 which didn't meet the reserve
For auction is a 1970 Opel GT Pro Street, 1965 350 HP 327 engine, tunnel ram, 2 holly 4BBL carbs, turbo 350 transmission, stall converter, full tube chassis, and narrowed 8 3/4 rearend with 391 gears. Car has new holley fuel pump, mickey thompson rear tires 29.00 x 15.50 x 15, tubes, billet aluminum pulleys, hilburn scoop, motor mounts, one off custom made headers and dual exhaust. Car has fiberglass removable front clip, car has been in storage for 10 years. It was a show car before it was parked. The car needs body work and wiring, interior is fair, but could need some work. This car will need minimal work to be on the street again. Car was fast and drove straight when last driven.
---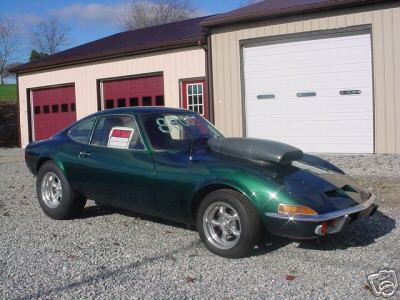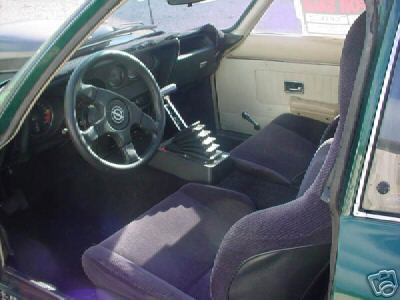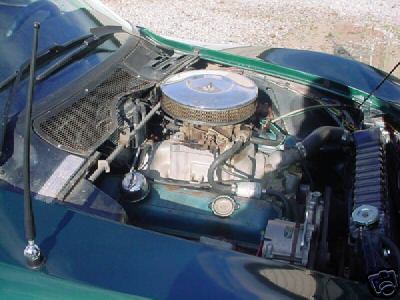 Ebay, 12/06, bid to $8,100 which didn't meet the reserve.
Nice original car from Kansas. No Rust. The interior is very respectable but could use carpet. The paint is really nice. The motor is a strong running 350 with a 350 turbo. It has a 9 inch Ford rear with a B and M shifter, new American wheels and Mickey Thompson tires.
---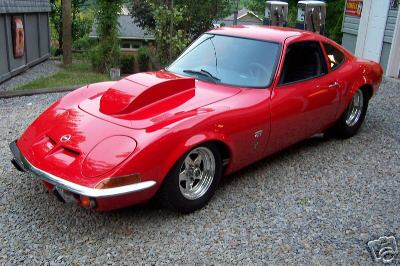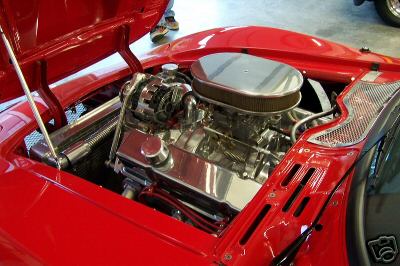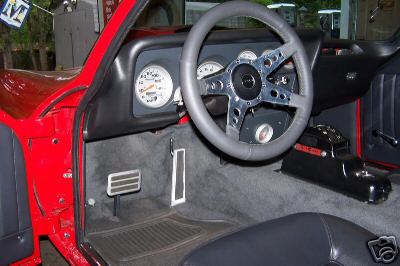 Ebay, 5/07, bid to $14,095.01 which didn't meet the reserve.
Very well done, one of the nicest pro streets I've seen.
1970 Opel GT. New car. 383 ci Chevy stroker, angle plug heads, MSD ignition with rev limiter. Painless wiring, stud girdle, roller rockers, Crane cam, steel Calies crank and rods. 10.5 compression, 750 Edelbrock carb, polished intake. March serpentine belts, BeCool aluminum radiator. Spal fans, 400 turbo trans, w/shift kit. BM HoleShot converter. 9 inch Ford narrowed rear. 3:70 Mauser axles, Martz chassis, powder coated tubular A-arms, polished rack and pinion, chrome 4bar, polished Aladdin coilovers. S&S polished brake and fuel lines. Fuel cell in stock location. Mickey Thompson tires on Weld Prostock wheels. Viper Red paint on all steel stock body. Every bolt and nut on the car is polished stainless. Complete new interior, AutoMeter gauges in newly repadded dash. New carpet, casette player, electric antennae. Car is new with 700 miles. All new chrome trim and glass, bumpers and moldings. Built right, drive anywhere, never raced. Fast, Fun and an Eye-catcher!


---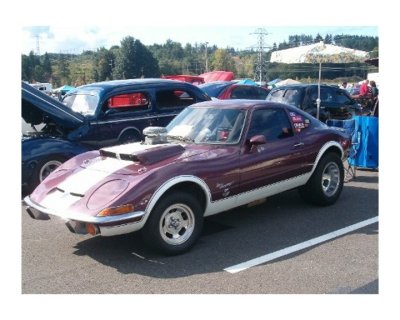 Cragislist, 1/09, Sold for 3500 minus engine, tranny and electrics.
Search for "opelgt12sec" on youtube to hear the wonderful sound and see some burnout & drag videos of this one.
Opel GT, SBC power full frame, roll cage, super charged, can have a 4 speed or automatic has had both currnetly auto, line lock see more pictures and video on utube at opelgt12sec I have had it for sale for 10k but now it is on craigslist for 3750 without motor or trany, 9" ford rear end 390 gears 4 bar


---
Drag Cars
---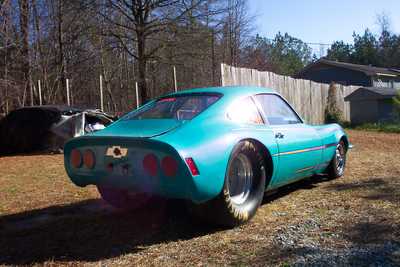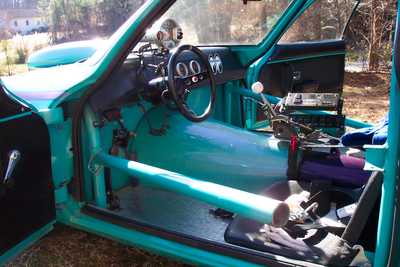 Racingjunk.com, 10/05. Seller asking $13.5k
Racingjunk.com, 7/06, asking $15k
Racingjunk.com, 8/06, $14k

Racingjunk.com, 2/07, $13.5k
Racingjunk.com, 5/07, $15k
Racingjunk.com, 8/07, $15k
Racingjunk.com, 1/09, $5.5k Ad #1434061
This one has been listed multiple times, not sure if it ever actually changed hands.

355 tucker mtr-dart 2 pro heads-all msd-jw trans and conv.-only the best -50 coats of hand rubbed lacquer w/violet pearl- 11 sec. car--best of everything
2009 ad:
355 chevy 4-bolt block, dart 2-steel heads, stainless valves, roller rockers, stud girdle, weind electric water pump, fluid damper, 780 holley, fuel pressure regulator, autometer gauges, roll control, hurst shifter, painless wiring console, deadenbear crossover delay, complete msd ignition system, interior is all removable made out of aluminumn, jw-powerglide, 5500 jw stall, polished fuel cell, too many things to mention
---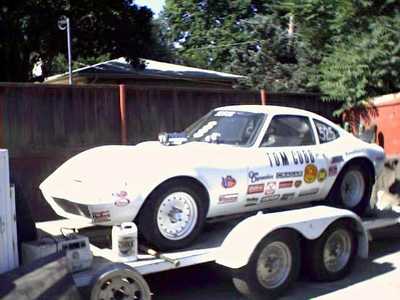 Racingjunk.com, 7/05
I lost the text for this ad, unfortunately. I believe the seller was asking 10-15k, with open trailer included. I think it was the typical SBC glide setup with a Ford 9" rear.
---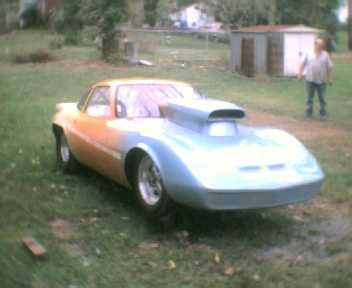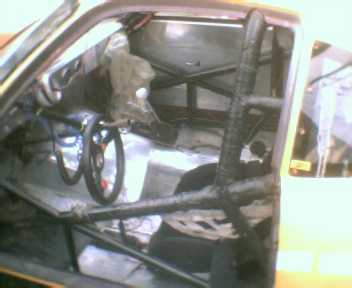 Racingjunk.com, 10/05. Seller asking 11,500 as a roller.
Couldn't tell too much from the photos, apparently a very light car given the numbers below.
TUBE CHASSIS CAR all polished allum. inside strange disc on front strutt front end ,markwilliams axles,disc brakes,sportsman cert. run out in 03 or 04,fully caged ,car weighs 2100 with big block,chevy and 175-200 pound driver one piece fiber glass frontend asking 11,500 obo minus motor,trans,electronics real good car,has wing,pairichutt,gages
---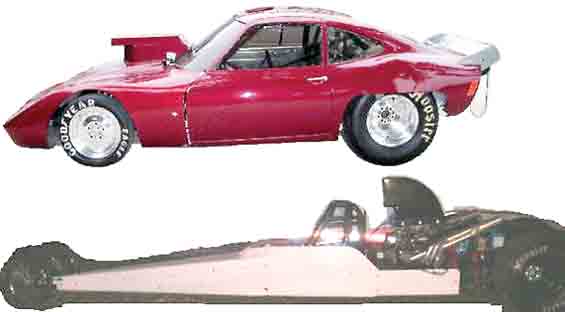 Collectorcartrader, 10/05, asking $22k.
I assume 22k was for the Opel AND the 210" dragster in the photo, as indicated by the ad text.
OPEL GT, 70 OPEL GT SG Cert Moly, 4-Link, Strut Front, 1750lbs W/406sbc, PG/Brake, 9 Rr, New Wiring/Plumbing, 210 RED 1250lb W/355, PG/Brake, 94 Moly, NHRA/SFI Tags, Fab 9 Alum Spool, Drilled Axles, MSD Ign, Biondo Delay, Alum Rad, Alt, $22K MUST SELL!
---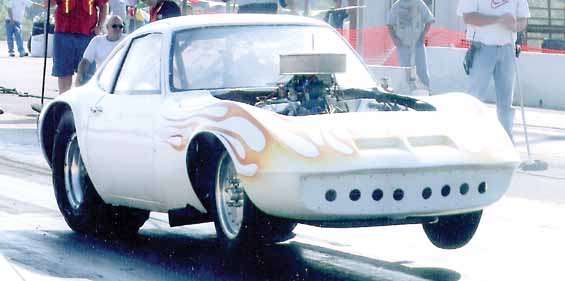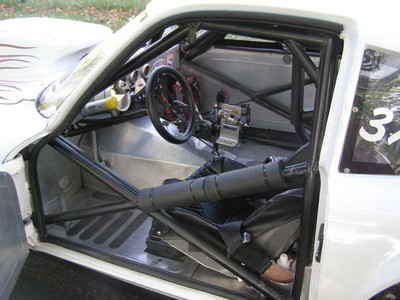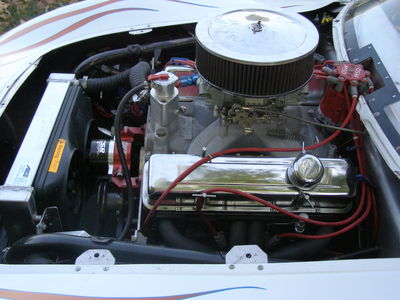 Collectorcartrader, 11/05, asking $16k.
Relisted on Collectorcartrader 3/06 for $15,500 OBO.
Relisted on Collectorcartrader 7/06 for $13,500 turnkey or $7,500 as a roller
Racingjunk.com, 10/07, see below for pricing, Ad #991839
Massive dump pipe wheel stand. Can't go wrong.
1973 OPEL GT, BUICK OPEL GT, Super Gas, cert. 750, 9 rear, PG176, Koni coil over, Strange struts & axles, 96WB, 1432 slicks. Too much to list! $16, 000
'07 Ad text: All of the best equipment. Alston Mild Steel Round Tube Chassis w/Funny Car Cage (Richmond Performance Center); Strange Strut Front End, adj. shocks and 175# springs; Narrowed Ford 9" w/back brace; Richmond Pro 5.67 gear; Strange 3.25 Aluminum center section; Ford 3.25/35 spline spool; Strange 35 spline axles; Koni Coil-over adj. shocks and 95# springs; ProLink 4-link; 51" wheelie bars; M/T Rear Slicks 32.0 x 14.0 x 15 (New 5/07); M/T Front 27.5 x 4.5 x 15 (New 5/07); Mustang II rack and pinion steering; Strange Disc Brakes-front and Wilwood Disc Brakes-rear; 1 piece Fiberglass front (removable) w/separate Fiberglass hood; Lexan windows; Set-up for SBC with Aluminum Motor Plates Front & Rear; AFCO Aluminum Radiator (New 5/07); MSD 7AL-3 Ignition (new 6/06); Auto Comp Gauges (Tach/Water Temp/Oil Pressure/Amp/Gas); Hurst Qtr Stick Shifter w/Biondi Elec Shift; Kirkey Alum Seat and cover; Biondi Mega 60 Delay; Quick Release 11" Steering Wheel; 4 Gal Fuel Cell in rear; Magna Fuel 300 Electric Fuel Pump w/Holley regulator; All Steel Braided Lines; CSI Elec Water Pump; 1-wire Alternator; Belts new 8/06; and 1.76 Powerglide w/JW Ultra Bell.

2000 24' Haulmark Elite trailer, Alum wheels, finished interior with lights (12V or 110V), generator door, carpet, electric winch and cabinets.

I am quitting racing and selling out. I had this car out 3 times in 2006 and 8 times this year. I will sell as Roller or Turnkey with choice of 355 (runs 7.10) or 406 (runs 6.10) or both.

Roller - $12,000.00
Turnkey - $15,000.00 (355)
$16,000.00 (406)
Trailer - $4,600.00
Package deal (car, both engines and trailer) for $21,500.00 and go racing today.
---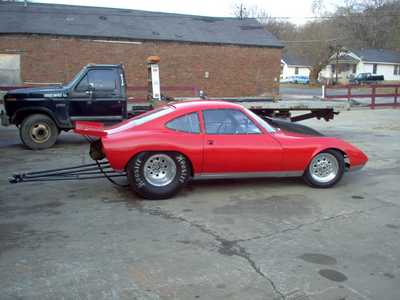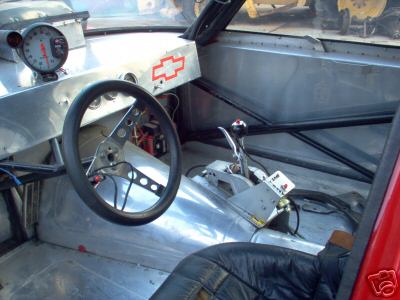 Racingjunk.com, 11/05, $7,500 as a roller. Relisted on E-bay 12/05, sold for $6,600.
Racingjunk ad text: I HAVE A 1969 OPEL GT ROLLING CHASSIS IT HAS ALL OF THE MSD,SHIFTER,MOTOR PLATES FOR BIG OR SMALL BLOCK CHEVY,HEADERS FOR BIG BLOCK,MAKE A LONG STORY SHORT ALL YOU NEED IS THE MOTOR&TRANNY THE REST IS THERE WILLING TO TRADE OR SELL IT DON'T MATTER
E-bay ad text: THIS IS A 1969 OPEL GT FULL TUBE CHASSIS CAR IT IS A ROLLER ALL IT NEEDS IS M&T IT HAS ALL THE MSD,MOTOR PLATES FOR B&S BLOCK,HEADERS FOR B-B IT HAS 4 LINK REAR A-ARMS IN THE FRONT IT HAS A FIBERGLASS FRONTEND LIFT OFF METAL DOORS HAS THE SHIFTER DRIVE SHAFT 12 BOLT REAR WITH 5.13 GEARS STRANGE AXLES WILLY BARS PARCHUTE ALL THIS CAR NEEDS IS A MOTOR AND TRANNY THE REST IS HERE THIS IS A FULL RACECAR THERE IS NO VIN ON THIS CAR SO IT WILL BE SOLD WITH A BILL OF SALE ONLY THE CAR IS SOLD AS-IS WHERE IS WITH NO WARRANTIES IMPLIED On Dec-03-05 at 13:59:17 PST, seller added the following information: THE WINDOW ARE LEXAN On Dec-03-05 at 14:24:35 PST, seller added the following information: THE WHEELBASE IS 96 INCHES THE CAR IS A MILD STEEL CHASSIS IT HAS NEVER BEEN CERTIFIED OR HAVE NEVER TRIED TO GET IT CERTIFIED On Dec-03-05 at 16:08:13 PST, seller added the following information: THIS CAR RUN 5.50 IN 1/8 WITH A BIG BLOCK 1.21 60 FT WEIGHS 1900 WITH S-B 2100 WITH B-B On Dec-04-05 at 20:13:57 PST, seller added the following information: REAR TIRES ARE 32-14.50 WIDE SLICKS
---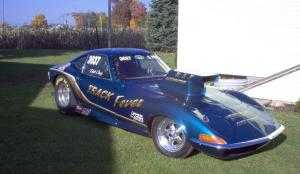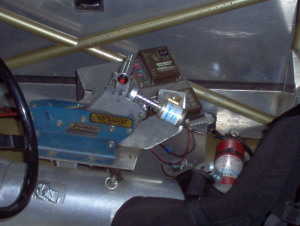 RacingJunk.com, 1/06, Asking for dragster trade or $18,000
RacingJunk.com, 8/08, $11,000

69 Opel Gt tube chassis ext 10 inchs, done by Ken Bowers@ Adavance Chassis, set up for bbc ran 8.7's, 4 link car, Chassis is built by advance chassis chrome moly. Rear end has 40 spline strange axles jfz brakes and 4:30 gears. front end strange struts brakes and rack& pinon. Painless wiring denenbear super cross over.with 565 BB car ran8.62 at 159mph with 1.19 sixty foot . Car wt. 2450 with 225 lb 5 ft 9 inch driver.
---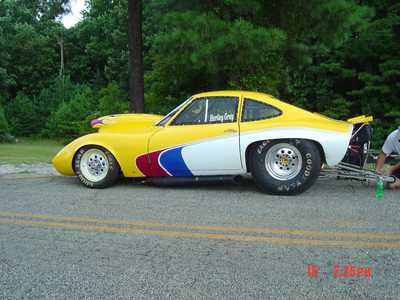 RacingJunk.com, 1/06, no price given
71 opel cert 7.50 it has 468 bbc on achool dedenbear trans pro brake 456 gears ladder suspension new good years on the back 32,14.5 15.
---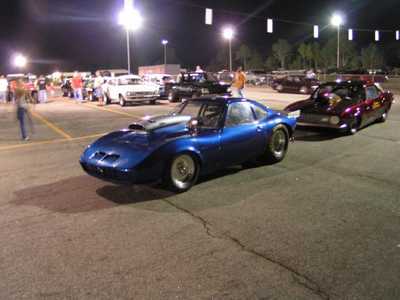 Racingjunk, 2/06, asking $18,000 OBO
Relisted on Racingjunk, 7/06, asking $13,500 OBO
Racingjunk, 5/07, $4,000 as a roller
Looks promising, would have liked to see some more pictures of this one.
Opal GT for sale turnkey 383 chevy, msd 6al ignition, simpson shout, afr 210 fully ported heads, electric water pump, alum raditor,full 2x3 chassis, new goodyear tires, 514 gears, dana 60 rear 4 link, convopro rims,and 2 speed power glide with ultra bell. Car will run 6.0 1/8 mile on motor and ran 5.30 on 275 shot NOS. Car weights 2380 with 180 pound driver. Fiberglass front clip and hood.
---
Racingjunk.com, 3/06, $12,500 as a roller
1970 Opel GT, chrome moly chassis, glass body, 99" wb, strut front end and coil over 9" with MW aluminum center. NHRA certified last year to 8.50. Beautiful fresh paint, car was disassembled to paint and has not ran since it was reassembled. Still needs some small things done to be ready for racing. Sell rolling, with SBC headers, aluminum front and mid engine plates, aluminum gas tank. Car has no electronics except switch panel, Autometer tach and a couple of gauges. Car weighs in the 1500# range. This car will make someone a real nice race car.
---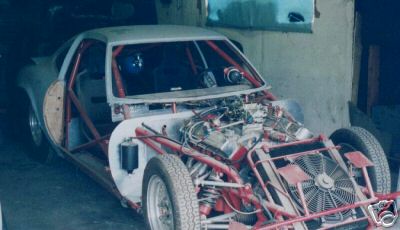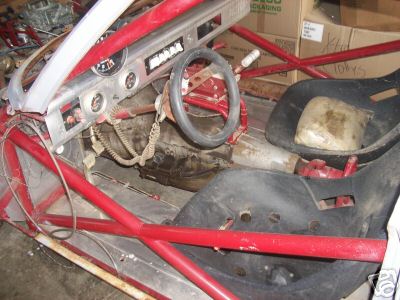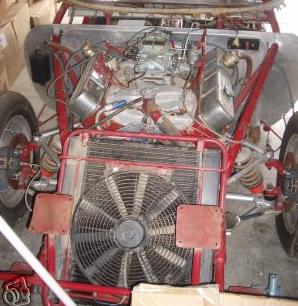 Ebay, 3/06, sold for $3,500
Ebay, 4/06, sold for $4,400
Looks to be a very well done chassis. As the buyer mentions, very little Opel left. Either someone flipped it a month later for a quick profit, or the orginal sale fell through.
This is an 1969 Opel Gt. The only opel left in it is the roof and rear shell. It is 100% tube frame. Olds 455 auto. Car has not been started since 2000. Sold as is. Although doors are not mounted I do have them. Comes with one piece fiberglass front end. Was not built by me so I can't tell you much...what you see is what you get...do have a box with some of the lights and lenses.
On Mar-25-06 at 12:25:26 PST, seller added the following information: I took some better pictures and made some observations. Took one pic through the side window showing the surface rust on the body shell (the underside is not painted) this rust sands off easily as shown in pic. The body shell needs to be removed and sand blasted etc... All window area was to be lexan. No lexan included. Door windows are fixed. Do not roll up or down. I do have regular opel gt doors if you prefer to do the mods yourself. You can have whichever doors you prefer. I may have enough regular glass if you choose, not sure and this should not be considered when bidding. The hood and doors are at a friends ranch and I will try to get photos tomorrow.
---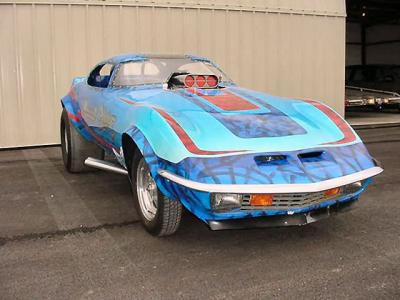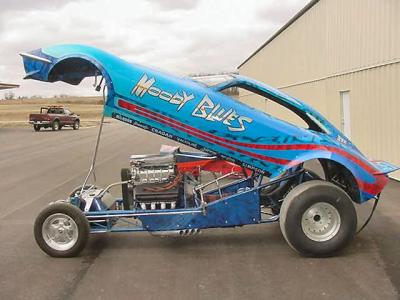 Ebay, 3/06, bid to $8,900 which didn't meet the reserve
Relisted on Ebay, 4/06, bid to $9,350.77 which didn't meet the reserve
TraderOnline, 1/09, $16,900 AdId = 90566599

I included this one because it was listed as an Opel GT on E-bay. It's a bit beyond the intended scope of this page, but I couldn't resist. The ad text below was pared down some from the original listing.
LOOKING FOR THE PROJECT OF A LIFETIME? THIS IS ONE OF THE WILDEST STREET DRIVEN CARS EVER ASSEMBLED. THE BRAINCHILD OF AN OHIO STREET RODDER, THIS MACHINE FIRST APPEARED AT NATIONAL STREET ROD ASSOCIATION MEETS IN THE MID SEVENTIES AS THE FLIP TOP 1976 OPEL GT FUNNY CAR "MOODY BLUES". IN 1978 AND 1979, THIS SAME GEARHEAD WAS DROPPING JAWS AT THE STREET ROD NATIONALS IN A '23T ALTERED. IT WAS IN FACT THE SAME CHASSIS WITH TWO DISTINCT BODIES. THROUGH THE YEARS, DISPLAYED AT NUMEROUS STREET ROD AND HOT ROD SHOWS. IN RECENT OUTINGS, THE OPEL WAS AWARDED 2ND PLACE HONORS IN THE FUNNY CAR DIVISION AT 2005 AND 2006 WORLD OF WHEELS.
EXTERIOR- Both bodies are fiberglass and still in the original lacquer finishes from back in the seventies. Note- the software would not allow me to load the auction unless I specified a number of doors, so I had to put in a number- obviously, neither body has doors. The Opel body was custom formed by the Ohian- lengthened 15" in the cowl area, chopped 6", and flared at all four fender wells. Body is in remarkable condition for it's vintage. Finish also still in great shape- you will see in the photo there are some minor shrinkage cracks on both rear wheel wells. Custom Blue Lacquer paint with marbelized anodizing and custom graphics. Look carefully at the graphics- this method hasn't been applied in decades. Old school painters refer to the method jokingly as "Smoke Wrench Graphics". In actuality it is a procedure that requires the utmost skill. After base paint and color graphics were applied, a smoking cutting torch was transversed across the graphics, then the whole finish was sealed. Stock front and rear bumpers. Chevy Vega grill. Corvair Monza headlights. Opel tail lights. Chevy Nova turn signals. Front and rear spoiler. Simpson parachute. Chrome four point bracing rod holds body in the raised position for display. See photo of extra parts- hydraulic body lift is included with the car but is not installed. The Opel earned second place honors is the Funny Car category at World of Wheels in 2005 and 2006. The altered body is also finished in Custom Blue Lacquer. The same custom graphics were applied to the body. Look at the magazine picture of the altered. The radiator cowl and front dual wing go with the car. The mid and rear wing, and front wheel fairings do not. Quality of body and finish is equal to that of the Opel.
DRIVETRAIN- 1958 Chrysler 392 HP Hemi. Engine is a complete long block that was fully rebuilt 6 years ago and never run. Complete internally. Complete heads installed. Custom fabricated Zoomie Headers. Moon fuel tank. For display purposes at World of Wheels, the engine was mocked up with a blower, belt, etc. The GMC 6-71 blower, intake, all front pulleys and hardware, and the Enderle Bug Catcher Hat are included. The blower case only is mounted on the car. The internals are in the photo of the parts and are included. There is no fuel delivery system with the car- just the hat. Cross Flow Corvette radiator and cooling fan not installed but included. So to summarize, you have a complete rebuilt Hemi that you may have to do some work on before you fire it and a blower that will need rebuilding. You will have to install a fuel delivery system of your choice, as well as some miscellaneous plumbing and wiring. You will also have to plumb the cooling system. There is a bell housing, but no transmission. Again, the software forced me to enter a trans type, but there is none. In the parts photo, you will see a driveshaft included that bolted up to the original Clutchflite trans. Original chromed Olds narrowed differential with 4.56 gears and Henry's Axles. Chrome wheelie bars.
CHASSIS- Custom fabricated 1 3/4" tubed chassis. 110" wheelbase. Front straight tube axle, dropped 4". Anglia front spindles. Four Link Split Wishbone- Koni coil over shocks. SPE steering. No front brakes- it's light- don't need them. Rear suspension is ladder bar with coil over shocks. Hurst/Airheart Dual Spot rear disc brakes. Recent full Funny Car cage- will accomodate large driver. Padded racing seat with harnesses. Mini steering wheel. Fuel and brake hardware. Drag star 15" front wheels with Skinnies. Centerline Beadlocks with Goodyear 32x14.5x15 slicks on rear.
---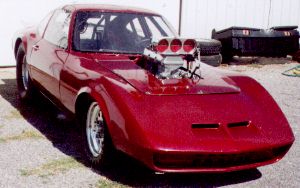 race-cars.com, Date Unknown, $14,000 OBO
Description This car is a race ready roller built by Carpenter Race Chassis in 1988. The owner would entertain selling the car complete with drivetrain. Call for details. History The car was built in 1988 by Carpenter Race Chassis. Recent Competition History 2000 - Thunder Valley, BRacket Racing Comp/S/G. The car runs 8.90 @ 153 mph. Engine * none * set up for BBC * mid & motor plates for SBC & BBC Fuel System * front & rear mounted fuel cell Oil/Water System * Scirrocco radiator, electric fan Electrical System * MSD 7AL * Dedenbear crossover, solenoid shift Gearbox * none, set up for PGlide Final Drive * 9" w/Mark Williams center section * 4.56 Pro gear * Strange axles Body * fiberglas frnt end, lift off doors * Lexan windows * painted Garnet red, good condition Chassis * Mild steel round tube, built by "Carpenter", NHRA certified * Dampers: Afco * Front Suspension: Strange strut * Rear Suspension: 4-Link, coilover * Steering: rack & pinion * Brakes: JFZ frnt disc, drum rear * Wheels: Monocoque wheels w/GoodYear tires * Weight: 2300 lbs. w/BBC Interior * all aluminum * Autometer gauges * all Painless wiring * B&M shifter * racing seat w/safety restraints Spares * some spares
---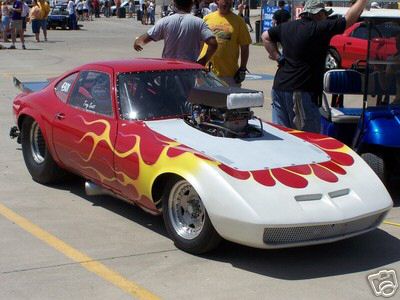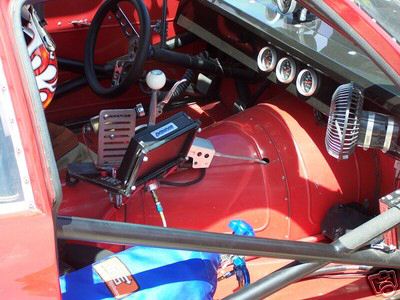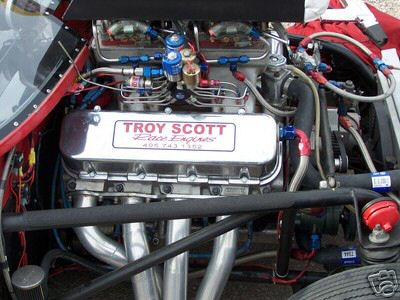 Ebay, 5/06, bid to $15,099.99 which didn't meet the reserve
Racingjunk, 5/06, $48,500 complete or 25k as a roller
Racingjunk, 11/06, $38,000 complete or 20k as a roller
Racingjunk, 2/07, $35,000 complete or 20k as a roller
Simultaneously listed on RacingJunk and E-bay. Seller hinted at a reserve price of 35k for the Ebay auction.
Ebay: This car has a 632 that makes approx 1400 hp! The car runs 7,0s on just a 400 shot of NOS! The car has a two stage fogger system and the second stage has never been used! This car goes rounds. It competes in the pro street shootout class and consistently wins money. The pics and ETS speak for themselves. Bid and make it yours!
RacingJunk: You better hang on when you turn this one loose! This little motor scooter flat gets it~! Its a 70 Opel GT with a 632 and two stages of NOS. So far Troy has only used the first stage and it runs low 7-s at nearly 200mph. You can buy this car turn key for 48,500 or just the engine for 25000 or rolling chassie for 25,000. This car has WAY to much to list
---
Racingjunk.com site, 5/06, $14,500 or $8,900 as a roller
No pictures available
1973 Opel GT $14,500.00 This car belongs to a friend of mine so any questions please call the number in the ad, the car does run, but is being offered as a roller or as a turn key car. Its a 1973 Opel GT (little Vette)it has a round tube Austin Chassis, is certified for 7.50s, the rearend is a Knoure 9 inch Ford with 5;00 gears and four link suspension, Koni adjustable rear shocks, std. bore 350 Chevy with a B&M 144 Supercharger and a 176 powerglide w/trans brake. the front end has a Strangestrut front suspension and has 4 wheel disc. Tires are 1432 Firestone slicks and new front runners The body is steel with a fiberglass frontend front end, its painted white with orange flames, car runs 9.70s at present time. Price is $14500.00 turn key, or $8900.00 rolling.
---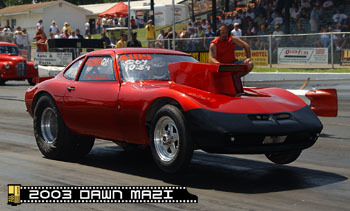 Racingjunk.com, 5/06, $8,500 turn key
Relisted on Racingjunk 7/06, $8,000
This one looked nicely finished in the pic that was available and seemed very reasonably priced. I would have liked to see the interior.
69 Opel Gt full tube chassis $8,500.00 car is full tube chassis car with 2x3 main rails. It has fiberglass front end & hood, lexan all around. Dana 60, with strange axles and spool. Ladder bar and coil overs. Nice aluminum interior. Weld pro stars all around. All MSD ignition. Dedenbear super crossover. 355 chevrolet engine, powerglide with brake, 9" ptc torque converter. Car is candy apple red. weighs 2250 less driver. Please call or e mail for more details. This is a very good working car, very consistent and fun to drive. $8500 t/k . might consider roller.
---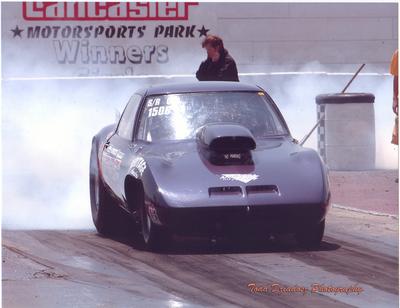 Racingjunk, 7/06, $10,200 as a roller
Racingjunk, 3/07, $10,500 as a roller
Racingjunk, 8/07, $10,500 as a roller or $17,500 complete
Racingjunk, 10/07, $10,000 Ad #993477
opel gt S/R-S/P Nostalgia drag car. 2x3 frame- chrome moly cage, front struts, 4-link, early olds rear end, 2300 lb. w/ 160 driver. electronics, bbc custom headers,IHRA certified roll cage, proven S/R winner. some extras also. Made for small driver.
2x3 frame rails,funny car cage chrome moly, early olds rear end, 4-link, strange ft struts, coil overs in rear, all electronics. ran car in 9:90 class@157 mph. steel body, fibergass 1 piece ft end bbc custom headers, some extras.
motor gen 6 block, ross 13:1 pistons, manley steel rods,514 cu in, brodix heads,crane roller cam,comp. roller lifters,holley strip dominator, complete flying toilet on alky went 8:40's off stop,competition trans, hardened 1:76 gear set- hardened input shaft,5500 stall 9 in. converter.
---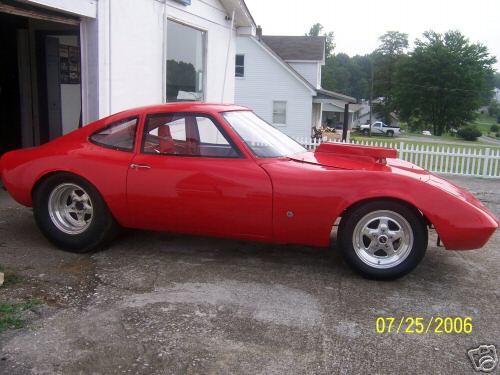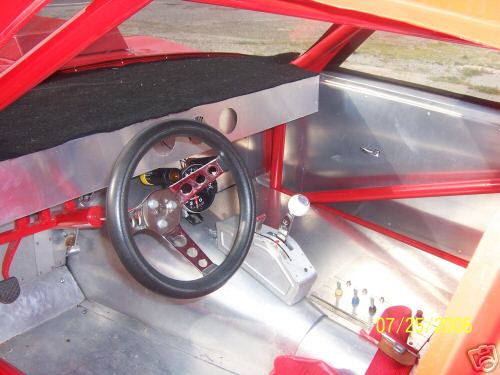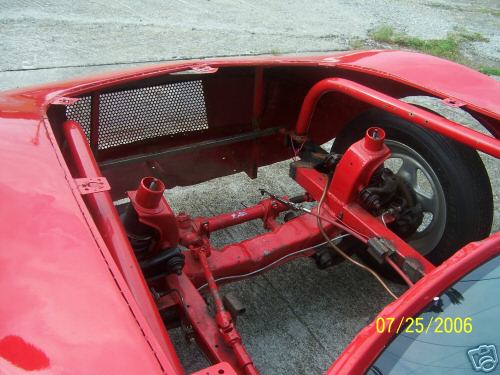 Ebay, 7/06, Sold for $4,203
Seemed like a bargain for a good, light, blank-slate car to build up.
This is a 1971 Opel GT Drag car. It only has 7 passes on it. It has a complete tube frame with coilovers. It has a 9 inch ford rearend, 5.13 gears with spool and 28 spline axels. It only weighs 1600 lbs complete. It is setup for a Small Block Chevrolet. This car also has a clear title.
---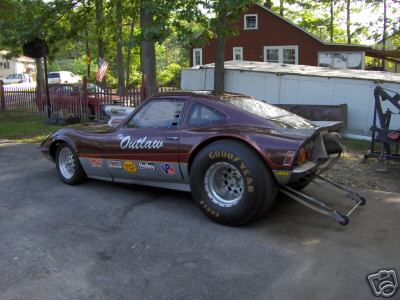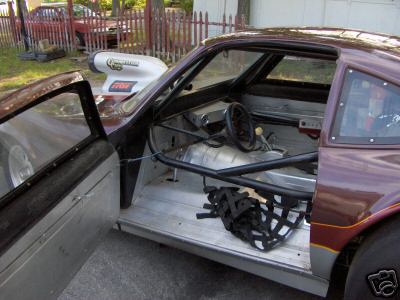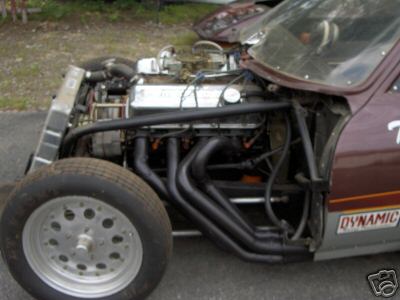 Ebay, 8/06, Sold for $12,000
1970 OPEL GT drag car all fiberglass mild 454 chevy with powerglide with transbrake. 2 stage MSD. Nine inch ford rear end, full floater. 456 gears. Straight chrome front axle. Car runs mid 10's in quarter mile. Boxed rectangular chassis.Built in the 70's. Not certified.
---
Racingjunk.com, 8/06, $10,000
No photos available.
Opel GT 70's era altered/funnycar tilt body $10,000.00 To my knowledge this is an early seventies California altered. I want to sell rolling, less engine and trans. Streight axle front, dana 60 rear,coil overs, 4wheel db,approx 1600# w/o driver(6 ft. tall max). Glass body with electric lift. Lexan, alum int, good tires. Set up for sb chevy and pg. 10k rolling (firm)
---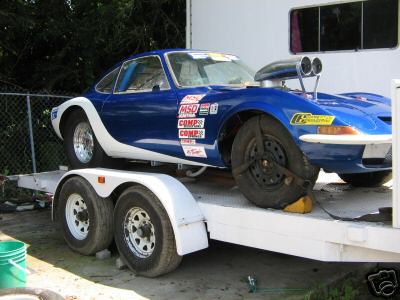 Ebay, 9/06, $6,500 Buy it Now, not sold
Seemed like a good deal. Looks like a steel front with the headlights tacked shut, or blanking plates tacked over the openings.
your bidding on an opel gt thats almost ready to go! 460 ci engine, dove heads, 11.5 to 1 compression . compleate comp cams setup. jw glide with brake, jw sfi flywheel, 4000 stall converter. nine inch ford rear with pro spool and gears, strange axels, 4.56 gear. 33x10.5x15 w slicks, compleate msd ignition.this car has never seen the track, all new!
---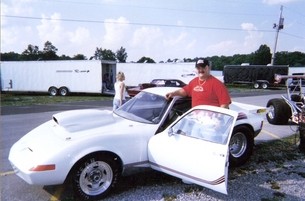 Racingjunk.com, 9/06, $12,500 turnkey or $7,500 as a roller
Relisted 2/07, $12,500 turnkey or $7,500 as a roller
70 Opal GT - This car runs 610's in 1/8 mile with 406. It has all top dollar stuff. I'm asking 7500.00 rollin or 12,500.00 turnkey.
---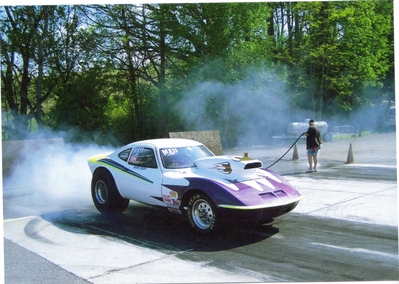 Racingjunk.com, 11/06 $13,000
Racingjunk.com, 1/07 $13,000
This is all fiberglass body, tube chassis, ladder bar, 434 small block, new power glide transmission with brake(seven passes on new transmission)New starter, almost new slicks(less than 20 passes)Runs 5.90s in 1/8. (footbrake class) Have won two Ironmen with this car. Car is super consistant.
---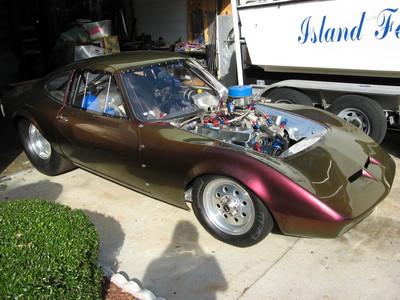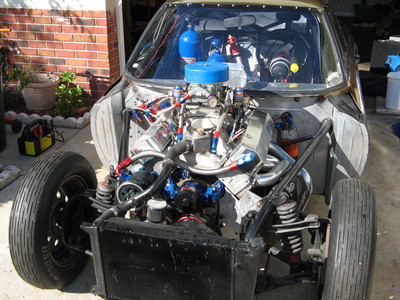 Racingjunk.com, 11/06 $35,000 with truck and enclosed trailer
race-cars.com, 10/07, $25,000 obo complete

Really nice paint on this one
1969 OPEL G/T Pro Modified S/B chev 434cid balanced 1.07 60ft 4.80 1/8 th mile @149mph 7.53 1/4 mile @191 mph
Brand New Merlin Block Tall deck with cam raised and splayed caps 15.5 x 1 compression Heads - 18* Brodix 2.15 int 1.90 ex all titanium valves with tripple over springs titamium locks Jessel valve train 1.6 rockers JE pistons ( Nitrous ) Tool seal rings Eagle aluminum rods with ARP L19 bolts Eagle Carnkshaft Block has been O-Ringed Full stud motor ARP 1150 Dominator flowed ATI Dampner SFI flex plate with scated shield Comp Cams Belt driven Clarke copper head gaskets Milidon Oil pan Cam ( NOS #3 #7 switched) .660 int .630 ex NOS- Pro Fogger with high flow valves-- 2nd stage Pro shot Custom aluminun valve covers 2 1/8 " headers Ceramic coated inside and out Vacuum pump Moroso ATI High flow electric water pump
Trans Powerglide 182 planatary molly hardened input shaft tci converter 5600 stall NOS Converter extra brace in rear tail shaft TCI Pro Brake Deep pan aluminum
Rear end Dana 60 Mark Williams axles 4:56 pro gears all new bearings Long studs front and rear
Chassi Full mild steele 4 link with top brace 48" wheelie bars Rack n pinion steering Coil Over front and rear Aladin
Wheels n tires Weld 5.o x 15 ft with moroso d2 drag runners weld 14x32x15 M/T d3
Body and interior All Polished aluminum interior exterior Camilian 9 color flop new lexan windows Full gauges and shift lights MSD 7al MSD 3 step Pro dial box Dual Dry cell batteries
Car has been completly gone thru, motor has 0 runs scince rebuilt. HAve aluminum enclosed trailer 24' with benches, cabinets, and hanging aluminum racks also have 1984 f350 4x4 diesel
---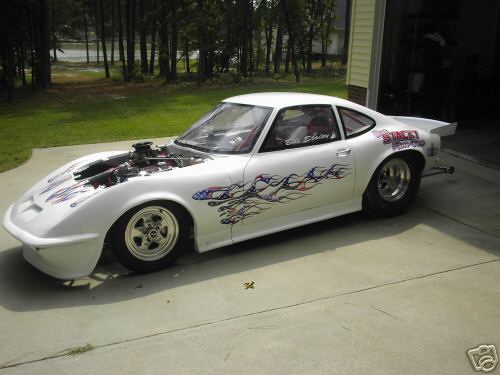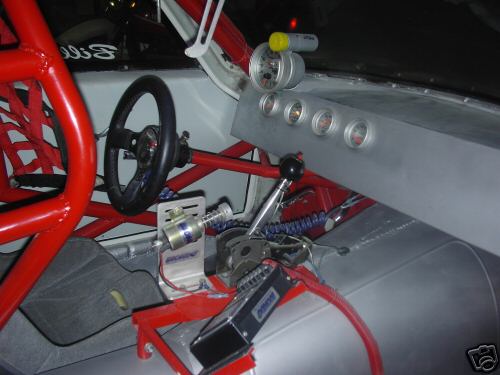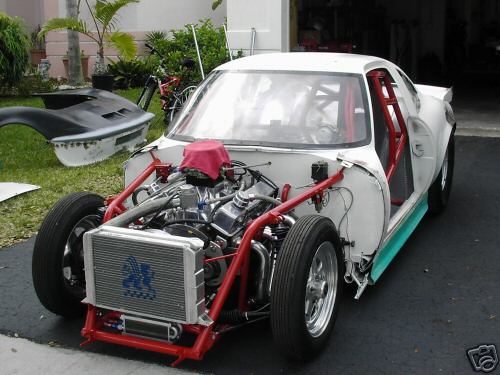 Ebay, 12/06, Sold for $9,102
Good deal for what looked like a well-built rolling chassis.
This car is being sold as a rolling chassis only (no motor or trans). This is a great opportunity to get a quick, full tube chassis, bracket car for a fraction of what it would cost to duplicate. This car started out as a street driven stock Opel GT. Several years ago, a 2X3 inch Jegs chassis was put under the car. With a mild SBC and glide, the car ran consistent 6.30's with 1.35 60 ft times. The car was all steel (except hood) and weigh in at 2150 lbs. A little over two years ago, the body was cut away and a Chassis Engineering Eliminator mild steel tube chassis was put in. It has a fully braced 9 in Ford rear end (5.13 gears) with four link and wishbone locator. It has a 3 gallon aluminum fuel cell and Aeromotive fuel pump. The car used to run both gas and methanol, so it is plumbed with a bypass style regulator and return lines. The parachute and window net are from Stroud and the wheelie bars are Art Morrison. Up front is Strange Engineering struts and brakes. It has disc brakes all around and a funny car cage. The front end is fiberglass and removable. The lexan windows are okay, but after years of use, could stand to be replaced. New seat belts will be needed as the old ones are out of date. The car comes with all electronics (cross over delay box, electric shifter, line loc, Holley annhilator ignition box with rev/retard/shift/staging controls). Gauges are all Autometer. Also comes with Griffin pro stock style radiator with fan and chrome moly drive shaft with 1350 series u-joints. The rear tires are brand new Goodyear 14x31 D5 with tubes. They have not been balanced. Included is the aluminum motor plate, thermal coated Dynatech headers for SBC and SFI certified mid plate/flex plate shield. The car has not been scaled or out to the track yet. I have some other projects I am trying to get finished before we move and just don't have the time to get out the track like I use to. The car should weigh in around 2000 lbs and with the motor I had put in, expected to run in the 5.8 to 5.9 second range (eigth mile).
---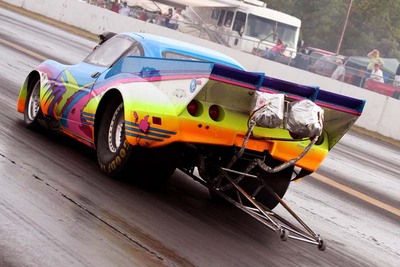 racingjunk.com, 12/06 $78,000 or $39,000 as a roller
SERIOUS drag car. Looks like a C3 vette rear valence.
One of a kind! Outlaw ProMod 4.000 Flat @ 183 MPH, .997 60ft. NHRA Certified good through 2009 Blown 532 Keith Black Olds 16:71 Littlefield Kobelco Rotors 3 Hole Carbon Fiber Hat New Keith Black Block Fresh Motor (8 runs) Crower 3 Disc Clutch Lenco 3 Speed w/ Air Shifters Mark William Drive Shaft Strange Ultra Case 4.71 Gear Lenco 40 Spline Axles Full floater housing Dual Parachuttes Removable body (Duzs off) Show Quality Custom Paint Best Appearing ProMod Awards Cover Car for Drag Racing Monthly Turn key race ready. $78,000 U.S. or Best Offer. will seperate roller $39,000 motor complete injector to pan $29000
---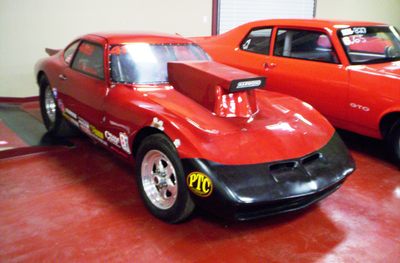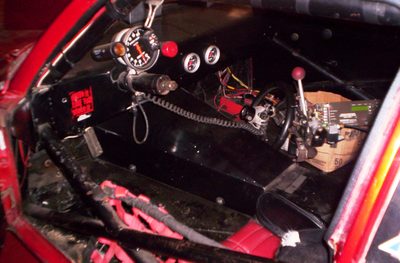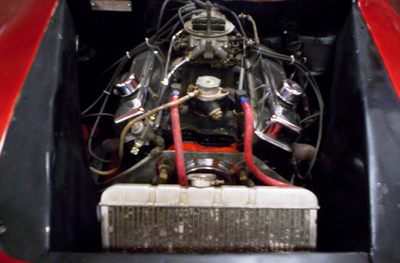 Racingjunk.com, 2/07, $8,995
Seemed like a good deal for a complete car. This may have been the same car listed as a '69 a few spots up.
1970 BUICK OPAL TUBE CHASSIS CAR SBC 335 - 10.5 FLAT TOP PISTONS - STEEL CRANK - HEAVY DUTY GM RODS W/ ARP BOLTS - IRON FUELIE TYPE HEADS WITH STAINLESS VALVES - 2.02/194 AND ROLLER 1.6 ROCKERS - CHET HERBERT #CC5A SOLID LIFT CAM (DUR: 280/288, LIFT:.518/.536 - GLIDE TRANS W/ PRO BRAKE - 1.83 GEAR SET W/ PTC 9" 4300 STALL CONVERTER - CROSSOVER DELAY - DANA 60 W/ (4:56) STRANGE SPOOL AND AXLES - LADDER BAR W/ ADJUSTABLE COIL OVERS - BODY HAS FIBERGLASS LIFT-OFF FRONT W/ SEPARATE LIFT-OFF HOOD. - STEEL DOORS - LEXAN WINDOWS ALL AROUND
---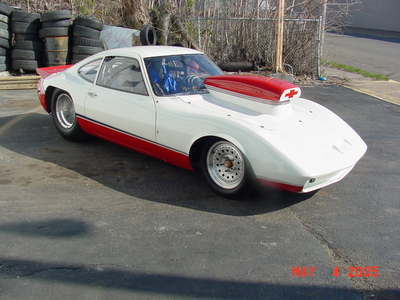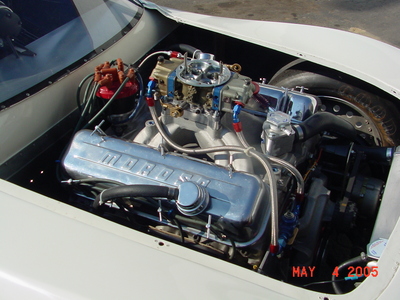 Racingjunk.com, 3/07, $28,500
Racingjunk.com, 8/08, $24,500. Ad #1239350
A&I fiberglass front clip Allson 4-link round tube chassis with funny car cage. 9" ford rear axle housing. Strange Engineering axles and spool. (Chassis Engineering) N-Series Ford Center Section. 4.86 Rear Axle Ratio. Wildwood Disc Brakes. Koni Coil over shocks Front&Rear adj. Pinto rack & Pinion Steering. Pinto Front Spindles. Strange Eng. Light WT.front disc brakes Morrison light weight upper and lower control arms. Griffin Radiator. Power Glide tranny.TCI input shaft&Hub. TCI 6000 Converter.Hypster Trans brake TCI Trans Shield. BIG BLOCK CHEVY 470CU.IN. 4 Bolt Main. Manley Pro Series Pistons. Manley .250 ALUMINUM RODS. 4" STD. Steel Crank Shaft. G.M. Open Chanber ALU. Cylinder Heads. 2.25 Stainless Intake. 1.90 Stainless Exhaust Valves. 1100 K-Motion Springs Titanium Retainers. 10* Locks Bronze Walled Valve Guides. Fully Ported. 670 Lift Comp. Roller Cam. Comp. Roller Lifters. 7/16 Push Rods Crane ALU. Roller Rockers. Jomar Stud Girdle-Double Bar. TRU Roller Timing Chain&Gear with thrust Bearing. Holley Strip Dominator Intake Manifold. PORTED & DIVIDED. 750 CMF Holley Carbureator. PORTED & FLOWED. Fluid Damper Balancer. MSD Ignition MSD Crank Trigger. AUTO Meter Gauges 7" TACHOMETER. Dedenbear Delay&RPM control electric shifter. Wheel Base 96" APPOX. weight 2100 lbs. VERY FAST AND CONSISTENT RACE CAR. CAR IS CERTIFIED. FITS 6' Driver.
---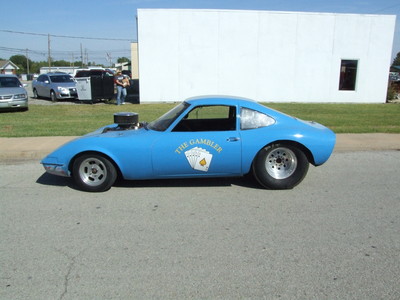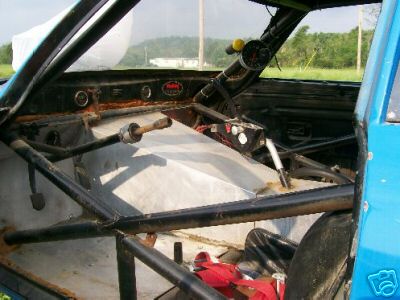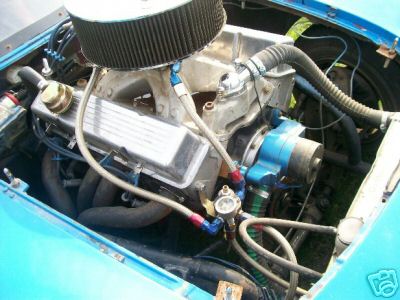 Racingjunk, 4/07, $8,500
Ebay, 4/07, bid to $5,000 which didn't meet reserve
Racingjunk, 5/07, asking $7,000
Ebay, 5/07, sold for $3,800

1972 Opel GT. Full round tube chassis. Front suspension is stock Opel(needed for class). 4-link rear with 9 inch. Full spool, 4.55 gear, moser axles. Engine is SBC 350. bored and stroked to 403. Aluminum dart heads with extensive port job. Full roller valve train Harland Sharp rockers. Comp cam don't remember the exact specs, but I can get them from the builder. Billet stud girdles. Block grouted to bottom of water pump. JE pistons, 6.0 inch H-beam rods, Forged Eagle 400 crank. Motor is about 14:1 compression. SFI balancer and flexplate. Victor intake with 850 Holley. MSD 6AL box, MSD pro billet distributor. Electric water pump. Griffin radiator. Fuel system is way overkill for this motor. Previous motor was on alchohol. Aeromotive pump,filter and regulator. All steel braided line and AN fittings. Transmission is power-glide profesionly built. Has tranny brake, 4500 hughes converter, JB ultrabell. Tranny brake has never been used. Tranny itself has about 15 passes. This motor was proffesionally built by Pete's machine shop in Muskogee,Ok. This motor has never been to the track. Last motor went 9.88 @ 147 way fat on alchohol. This is the same build, but all forged and on gas. according to the builder, this motor should be capable of 9.50's.
---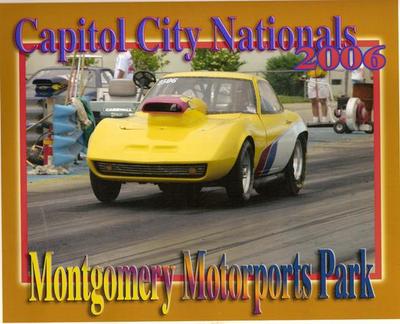 Racingjunk, 5/07, $15,000
1971 Opel Gt, runs 6.00s in the 1/8 468 BBC brodix big brodie Heads, brodix intake. 1050 alcohol dominator. crank trigger ignition 7al3 box. dedenbar cso-1 delay box. Dedenbar transmission, 5500 stall converter. Dana 60 rear. 32x14.5 goodyears. Full cage, chute, Wheelie bars.
---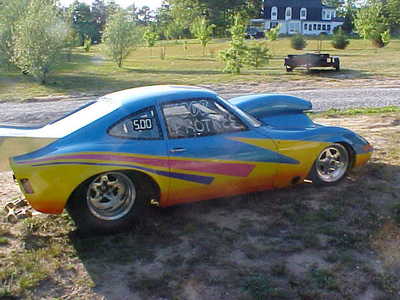 Racingjunk, 5/07, $15,000

tube chassis smallblock opel ready to go or will sell rolling.car was used for bracket racing.runs 570 1/8 mile.too much to list

---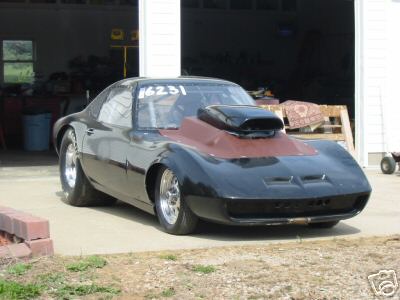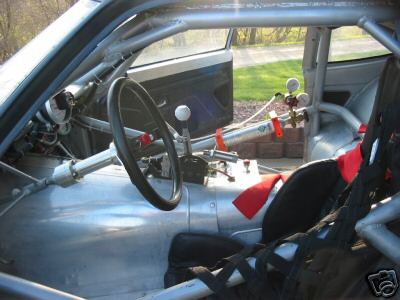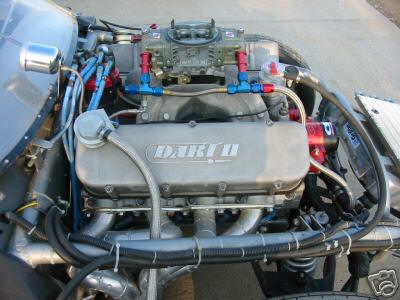 Ebay, 5/07, bid to $9,100 which didn't meet the reserve.

You are bidding on a 1972 Opel Gt. with a mild steel tube chassis. Big Block Chevy 440 CID. Power Glide w/trany brake, 5500 stall (it can pull about 6000), 5:13 (12 bolt Chevy) rear end, 4-link, Hoosier 31.0/14.0 rear slicks. The block is poured, and is a 427 bored .060 to 4.310. Std stroke. Dart 360 heads, Dart intake manifold w/ a 950 cfm Barry Grant prepared Holley. Jessel rockers and stands, Comp Cams Roller Lifters, Jessel Belt drive, MSD Crank Trigger, MSD Distributor, 6AL, JE pistons, Crower Rods, ARP Main bolts and Head Studs, Titan Sportsman oil pump w/matching aluminum offset pan, Holley 350 gpm fuel pump. Barry Grant filter, ATI Super Damper, CSI water pump, Griffin radiator w/shroud and fan, Jet Hot Coated Hooker Headers, CSI tranny super-shield.This is an old Super Gas car and is very solid and runs straight. It has a fiberglass front end w/ snorkel scoop and seperate cowled hood, The body shell is steel w/ steel doors and lexan windows. The scoop is not mounted but is setting in position for the photo. I have all the hardware studds and air pan to finish the scoop. It has some scratches and one place on the passengers door the paint came off and a small ding on the left rear quarter pannel. Some scratches around the zus locks. The Opel is not finished but I need to find a good home for it as I don't have time to persue the project. It has run 6.03 @ 115 mph. in the 1/8. and with very little work will be in the 5's. It weighs approx. 2160 lbs. It has new springs (front and rear) that have a light spring rate. Also replace the 4-link bars w/A.R. T. The motor has been freshened w/ the number 5 cylinder sleeved w/a darton nodgular iron sleeve. It has approx. 20 1/8th mile passes on the fresh motor. The chassis has been certified by the NHRA in 1994 and IHRA in 2005.


---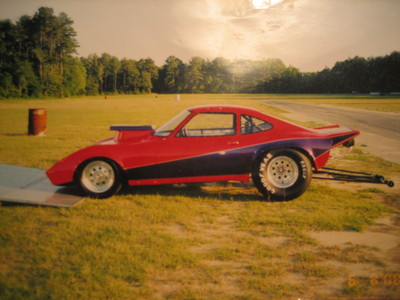 Racingjunk, 6/07, $16,000

Ready to race; runs 5.90's in 1/8 mile; 383 small block chevy; powerglidewith transbrake; 580 gear; asking $16,000.00
---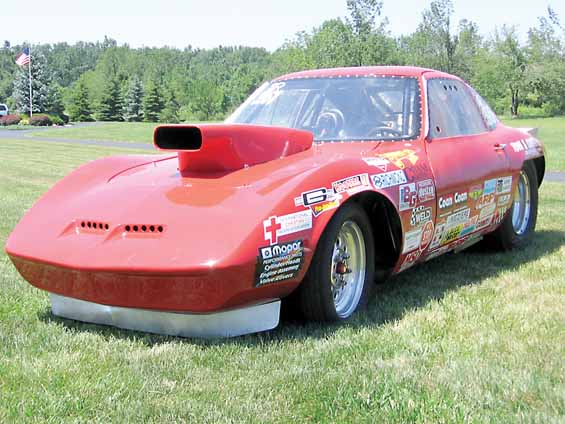 Collectorcartrader.com, 6/07, $18,500

No real info on this one.
1969 OPEL GT, RACE CAR

---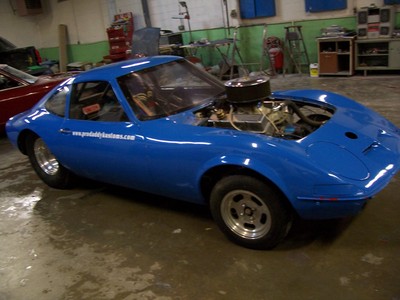 Racingjunk.com, 7/07, $8,500

Looks like it might still have rollover headlights.
It is a full round tube chassis,stock front suspension,4-link with 9" and moser axles,4.55 gears,full spool.it is a 350 block grouted to bottom of waterpump,it is bored and stroked to a 403.aluminum dart heads,massive port work,670 solid roller comp cam,roller rockers,billet stud girdles,J.E. pistons(14:1),6"h-beam rods,forged eagle 400 crank,all ARP studs and bolts.sfi balencer,and flexplate,victor intake 850 dp carb,msd probillet,msd 6al,3 step.griffin radiator,electric waterpump,All steel braided lines and an fittings,aeromotive fuel system,powerglide with brake,4500 hughes converter,JW ultrabell.The setup is fresh and there is over $8500 in just the motor and tranny easily.I took it to the track and it had to much gear for 1/4mile.i only ran a 10.0 @135mph,but we figure the car has easy 9.50's in it.It runs straight and pulls good.i made three passes in the car and shut it off about 900-1000 foot out because it was on the limiter by then and it still trapped 135 mph.this car with a gear swap and some nitrous would be very fast.or just spray it and run eighth mile how it sits.I came out easy in the car and still had a 1.404 60 foot and it went 6.22 in the 1/8th.
---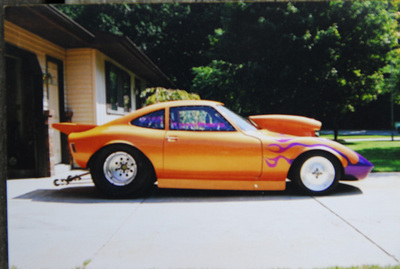 Racingjunk.com, 8/07, $17,500 or $19,500 with matching golf cart. Seriously.

All fiberglass except roof and rear quarters. Big Block Chevy (427 - 30 over), power glide trans, Mark Williams rear end with alum. center section, disc brakes on front and back, autometer guages, hurst quarter stick, holley 850 carb, victor jr. intake, msd 7al, dedenber box, throttle stop,car can run s/g, s/st, s/p, chasis is certified. Car runs straight as an arrow at ET 9.20s MPH 145 in Florida or ET 9.40s MPH 143 in Michigan. This car is one that you take to the track and have fun with week after week. Fresh and ready to go. Beautiful House of Kolor paint.
---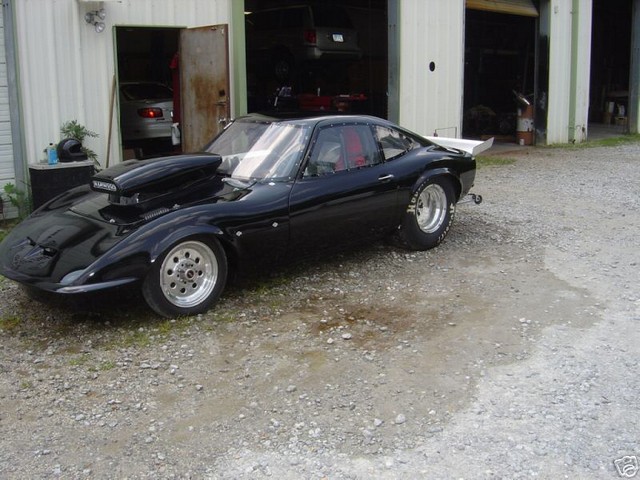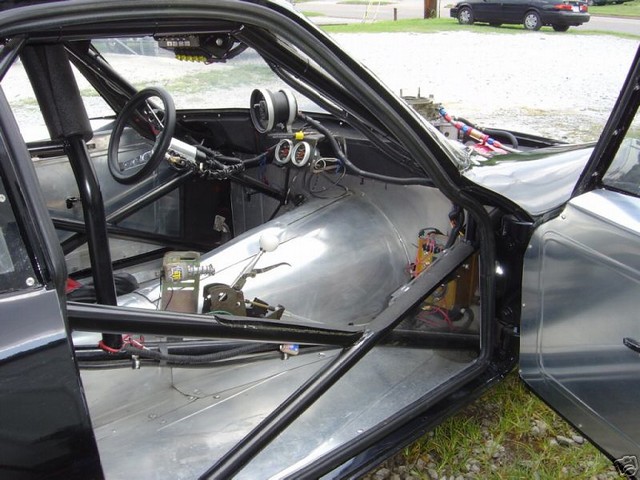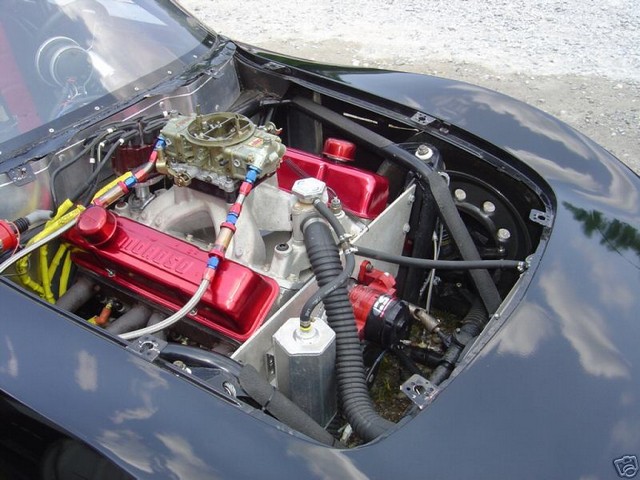 Ebay, 8/07, bid to $12,000 which didn't meet the reserve
1972 Opel GT 417 small block; 620HP; 2 speed glide electric shift; 5500 stall; 513 9" 32 spline moser axles; gold series msd ignition -- too much to list with over $40,000 invested. Easy 5.80 in the 1/8. Hooks hard and goes straight. Add gas and go race.


---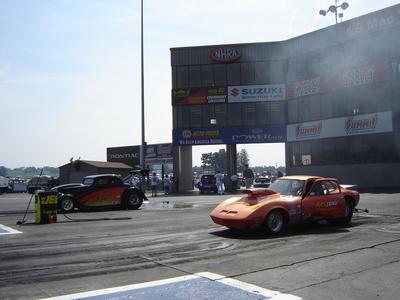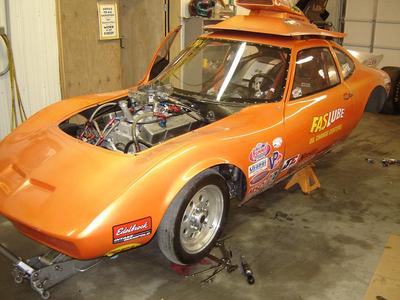 Racingjunk.com, 9/07, asking $22,500 turnkey
Racingjunk.com, 10/07, asking $21,500 OBO turnkey Ad #998482
1970 Opel GT Alston Tubuler Chasis
-Strange Front Struts
-NHRA Certified 8.50
-Designed to fit larger driver.
-All new 4 link, anti roll shocks, springs & wheelie bars in 2006
-4 wheel discs
-Biondo Mega 450
-Hurst Quarterstick shifter with electric solenoid
-Dana 60 rear end
-Impact Seat Belts New 05/07
-Biondo Inline Throttle stop
-Mallory Comp250 pump
-Autometer Tach & gauges
-Hoosier Slicks new 05/07
*434 SBC by Zimmerman Bros.
-Freshened this year w/dyno sheets available
-Moroso vacuum pump
-Rupert alcohol carb with extra capacity bowls
-MSD Ignition
*Powerglide trans w/1.80 straight cut gears
-Hughes spragless converter
-B&M extra capacity can
-BB Header & Mount plates available
*Car runs mid 8.80's @ 153 with 180lb driver. 9.90's @ 150.
*Very consistent car.
*Asking $22,500 turnkey and ready to take racing this weekend.


---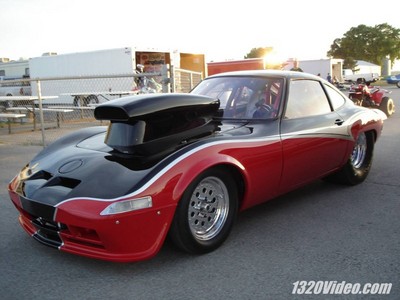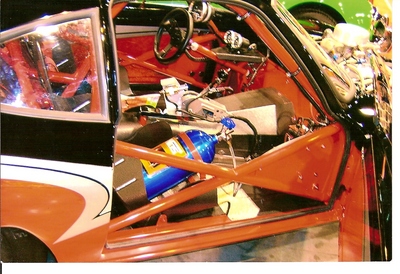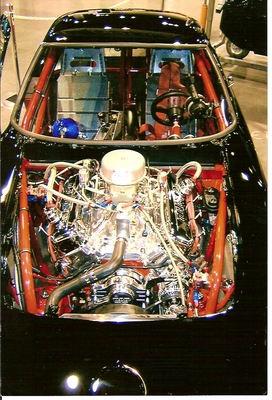 Racingjunk.com, 9/07, Ads #978216 &
#98329, Asking $29,500

This one just looked mean. Nice paint, too.
M/S chassis certified to 7.50
Dana raer end / 4:30 pro gear
4-link / wishbone / Koni shocks
Narrowed tubular A-arms / QA1 shocks
Wilwood four wheel disc brake
482 cu in aluminum head BBC
Barry Grant fuel system
NOS plate system
P/G transmission / TCI 2.03 low gear set
5300 stall
Powder coated chassis and interior
Last time out car ran 5.60 @ 123-1/8 mile


---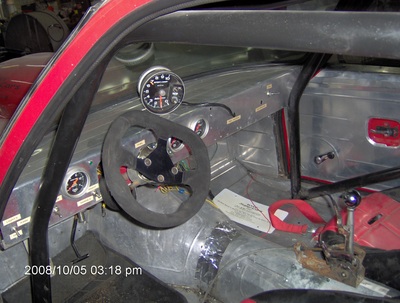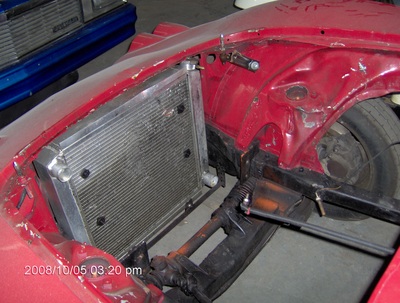 Racingjunk.com, 9/07, Ad #981890, $19,500
Racingjunk.com, 12/08, Ad #1410140, $7,000 as a roller
2007 ad-
EnginenGM 406, Eagle crank & rods, speedpro forged 11.06 com. pistons, compcam mechanical camshaft 550-570, comp-cam lifters, pushrods, rockers, double roller timing chain, HV oil pump, Trickflow R-series heads, Edelbrock victor Jr air gap Intake, Holley 825 cfm card with two inch spacer 875 cfm, SFI aproved flexplate, TCI 5500 stall converter, TCI 2 speed glide-trans brake & harden shafts, 12 bolt GM 514 gear with spool 9 inch ends with moser 30 spline axels.


2008 ad-

1970 Opel Gt,tube chassis roller. Older build. Has ladder bar suspension,narrowed 12 bolt with moser axles,full spool,513 pro gears and coilovers. Centerline Convo-pro wheels,rear 15x14 with 29.5 x18.5 sportsman pros, will fit bigger,disc brakes on front,drum rear,front and mid sbc motor plates,headers and 4" flowmasters,aluminum radiator,trans cooler,two race seats with covers and harnesses,fuel cell,removable steering wheel,all glass windows,nice tin work inside,has head and tail lights,brake lights and turn signals. has old title with car,state of La. will not title the car. Could use a little body work on hood and new paint to be real nice.

---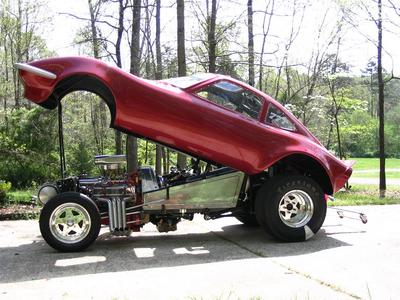 Racingjunk.com, 10/07, Ad #983150, Asking $18,000 OBO as is (damaged motor)
UNIQUE 1969 OPEL GT ALTERED/FUNNY CAR. BUILT IN THE EARLY 1970 S.
CAR IS GREAT FOR NOSTALGIA RACING, SHOWS, AND BRACKET RACING. (AND SPONSORS)!
THERE ARE SO MANY OF THE SAME OLD THING CARS AT THE TRACK. THIS IS A STANDOUT CAR!
NO DECALS ON THE BODY SINCE NEW PAINT, PUT YOUR OWN NAME/GRAPHICS ON THE CAR.
96 INCH WHEELBASE - WEIGHT 1900# W/O DRIVER
CAR IS EASY TO DRIVE AND VERY, VERY CONSISTENT!
RAN 6.0 ON MOTOR IN 1/8 MILE AND MID NINES IN ¼ MILE.
OVER THE YEARS IT HAS BEEN AN 8 SECOND CAR.
DRAWS A CROWD RIGHT AWAY ANYWHERE IT GOES. OVERALL THE CAR SHOWS EXCELLENT!!
I AM 5 FOOT 11 AND 190 LBS. AND FIT PERFECT IN THE CAR
CAR WILL FIT DRIVER COMFORTABLE UP TO 6 FOOT TALL OR AROUND 230-40 POUNDS? - CAGE IS WIDE.
BODY AND CHASSIS:
FLIP UP ORIGINAL GLASS BODY WITH NEW INFERNO RED PEARL PAINT . VERY CLEAN!
ALL TIN AND LEXAN IN NICE CLEAN CONDITION
ON BOARD FIRE SYSTEM
WHEELIE BARS AND PARACHUTE
5 POINT CAMLOCK PRO HARNESS, DATE GOOD UNTIL 8/09. HELMET BARS INSTALLED
DANA 60 W/ 4:56 RICHMOND GEAR AND MARK WILLIAMS 33 SPLINE AXLES
4 WHEEL DISC BRAKES AND COILOVERS
NEW BOGART WHEELS
NEW COMPLETE WIRING/ELECTRICAL SYSTEM WITH GM WEATHER PACK CONNECTORS
ENGINE AND TRANS:
B&M 144 BLOWER ON 331 INCH SMALL BLOCK CHEVY- 65 CORVETTE MOTOR 327 .30 OVER
GM BOWTIE ALUMINUM HEADS
.600 LIFT COMP MECHANICAL CAM , LIFTERS, PUSHRODS AND VALVE SPRINGS
7/16 STUDS WITH HARLAND SHARP ROLLER ROCKERS AND STUD GIRDLES
NEW POLISHED 750 HOLLEY SUPERCHARGER CARB- (GAS $720)
MSD BILLET DISTRIBUTOR, COIL,WIRES, AND IGNITION SYSTEM
BRAND NEW NOS SUPER POWERSHOT 50-175 SYSTEM WITH 2- 5LB. BOTTLES, BOTTLE WARMER, TRANS BRAKE RELAY
NEW MSD 3 STEP W/ LAUNCH CONTROL-LINE LOC- AND DEDENBEAR DELAY BOX
GEAR DRIVE TIMING, MOON FUEL TANK, DEEP PAN AND ZOOMIE HEADERS
5500 STALL RACE CONVERTOR W/ POWERGLIDE AND QUARTER STICK SHIFTER
COOLING - ELECTRIC WATER PUMP AND RADIATOR WITH FAN. NO HEAT ISSUES AT ALL.
GAUGES - OIL PRESSURE, WATER TEMP, TACH, SHIFT LIGHT
I HAVE 30K INVESTED IN THIS CAR. THAT IS THE WAY IT GOES!
PRICE AS IS 18K OR OFFER.
---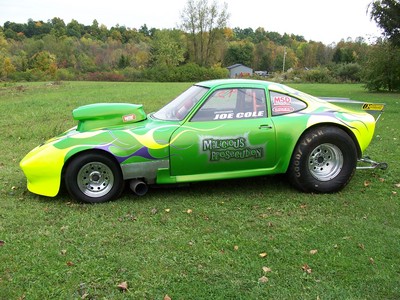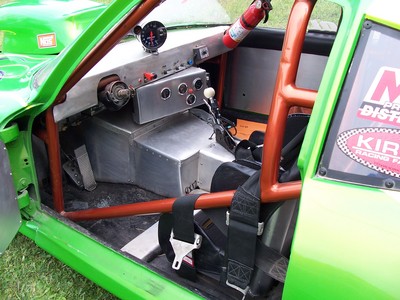 Racingjunk.com, 10/07, $15,500 Ad #995082
Craigslist, 1/09, No price given

350 small block Chevy
202 Cast Iron Heads w/Roller Rockers (screw 3/8" studs)
Aluminum Interior
Full Roll Cage
Kirkey Racing Seats
Powerglide Trans w/TCI kit
2800 Stall Converter
MSD Ignition
Pete Jackson Gear Drive
3 PT Ladder Bar System w/coilovers
4:88 Richmond Gears & Spool
Lexan Windows
NOS Pro Race Fogger System (installed but never used once)
Fully Adjustable Rear Wing
Adjustable Wheelie Bars
4 pt Harnesses
Strange C Clip Eliminators
Full Fiberglass Front End
** The roll cage, harnesses and scatter shield will need to be updated if you plan to run her in NHRA events **
---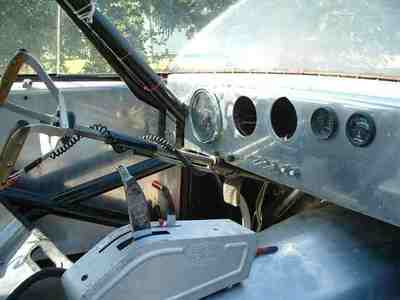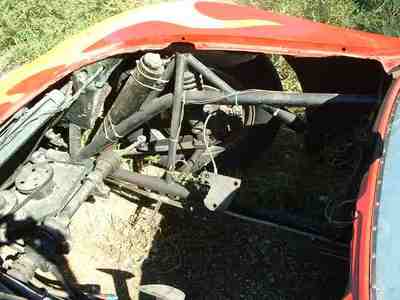 Racingjunk.com, 10/07, $5,500 as a roller, Ad #996589

Chassie car set up for bbc 400. full chassie car, strange struts, ford 9", 35 spline axles, B&G pro shifter, lexan throughout, fuel cell, hoosier slicks only 2 passes, holly blue fuel pump,
steel line from front to back, brakes complete, mild steel roll cage, all aluminum done nice, car needs verry little. Car stored in shop off ground. Set up for shorter driver 5'8"-5'10",
car weighed approx 2400lbs with bbc, 200 lb driver & approx 200lbs of lead in rear bumper. Great starter car. No Elect. , Rolling 5500 obo
The roll cage, harnesses and scatter shield will need to be updated if you plan to run her in NHRA events **
---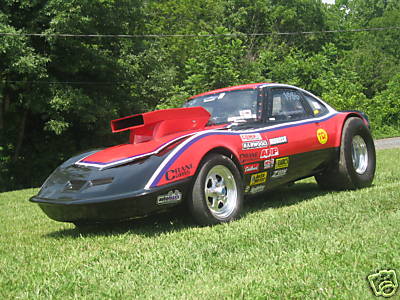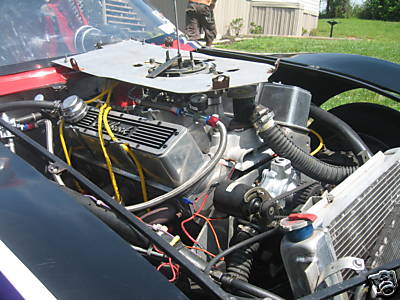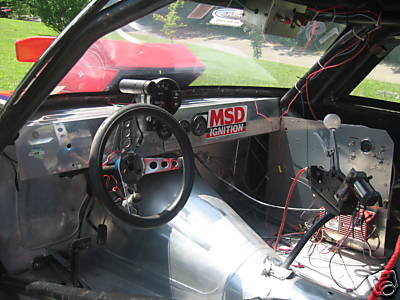 Ebay, 8/08, Reserve not met at $5,100 Item #230280828739

This is a 1969 Opel GT drag car. This car has a 383 Chevy 4-bolt main engine. The ET's for this car are 9.70 in the quarter mile and 6.20 in the 1/8 mile. This is a local drag car, I've seen it run at Thundervalley in Bristol, it is FAST! It has a 4 link, 9 inch Ford rear end with a 456:1 gear. It has a two speed powerglide tranny with a 4500 rpm stall converter. There is a "FFI Trans shield, a "quarter stick" air shifter with a line lock. It has a tube frame & a fiberglass body, there is one door, it's detachable. It has Mickey Thompson ET slicks, 33/15-15 with Mickey Thompson's front runners. This engine has a MSD electronic ignition with a 7000 rpm rev. limter, alum. heads with 208 valves, 220 cc runners. Roller rockers, stud girdles, guide plates ect. It has a 510 -510 Crane Cam & a Edelbrock, Victor Jr. intake with a 750 double pump (re-jetted) Holley & a Holley "red" electric fuel pump & regulator. It has "X" rods with TRW pistons & hand filed rings. This car has been tech inspected this year & is ready to run!
---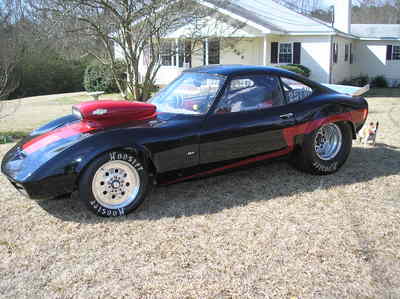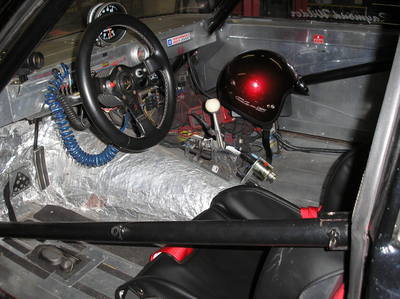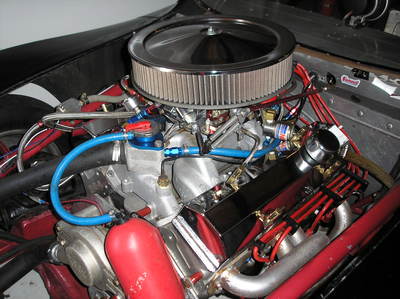 Racingjunk.com, 8/08, asking $10,000 Ad #1293611
83 SBC, Holley Alum Heads, 580 lift Comp Hyd Roller, 10.1 comp SRP pistons, Eagle H beam rods. 70 Runs on Eng & Trans.
Power Glide trans with Ultra Bell, BTE 5000 converter, Trans Brake, Electric Shift. 9 inch Ford rear , 456 gear, Spool, 5/8 Studs, Ladder Bar , Coil over. Aero Space Disc Brakes all around. Car all Metal with Fiberglass Frt end. , Lexan windows, New Seat & Harness. Paint has normal race car nicks , Not show quality , but looks good for race car. Weight 2025 lbs. Ran 6.45 1/8 @ 106 MPH, 10.19 1/4 @ 133 MPH.on Motor Earlier in year. Car Runs very consistent. Ran the Opel with 175 shot NOS June 20/2008 It ran 9.89 @ 134 mph 1/4 & 6.27 @ 109 1/8 at about 90 degrees. Car has swing out side bar, Easy to get in .Car drives great. Car Has Delay Box, easy to remove in case you like to foot brake race. Car ready to run , Gas & Go. Car drives strait with no Drama on the big end.


---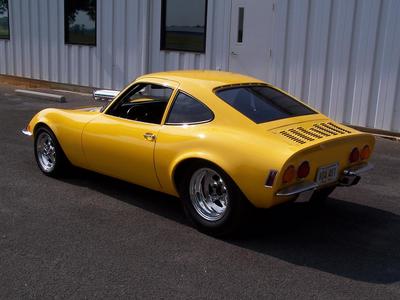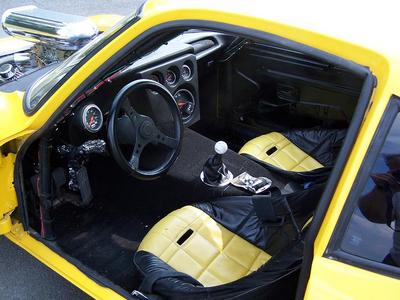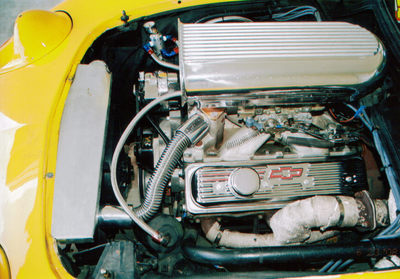 Racingjunk.com, 8/08, $15,000 Ad #1289345
Racingjunk.com, 10/08, $10,000 as a roller Ad #1355000

Little Opel GT, ZZ 383/425hp GM crate motor, 4-speed w/Hurst Shifter, Lakewood bellhousing, 9" Ford w/ Nodular center, 3:73 gears w/Detroit locker, Summers Bros. Axles, 4-link w/coil-overs, new fuel system w/ braided lines from cell to carb (new pump & regulator), Weld Pro Stars w/new tires, rollcage, 3" exhaust all the way to rear of car, 4-wheel disc brakes, new electric water pump,etc! All that wrapped in Viper Yellow paint. All light work even has turn signals. This is a fast, fun little car to drive, & the best thing is, there aren't very many of them! Not a race car, but can be raced!!


---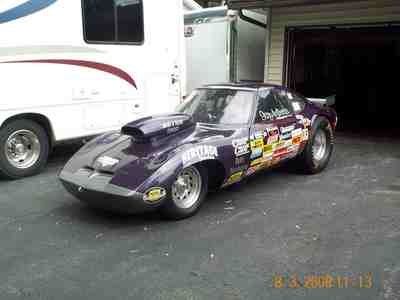 Racingjunk.com, 8/08, $8,600 as a roller Ad #1277191

Car has 2x3 frame rails .The rest of the car cage is chrome moly Have some extra stuff that will go with the car. Car cover , tire covers, ft. end stand.All electronic's Dedenbear SCO1 with timers,shift timer is a Dedenbear set up for rpm or time, play back tack,two step, all painless wiring.Slicks have about 10 passes on them.Shroud parachute is new .Strange spindle mount ft. struts. Rear coil over 's ,springs are new last year , four link with a wishbone stablizer, Quartermax antiroll bar, early Olds rear end with 4:10 gears.Ft. end is one piece fiberglass, rest of the body is steel. Car will fit a MEDIUM size driver.Car weights 2150 with a BBC without driver.Ran the car in IHRA super rod .All certs. have run out.
Nice nastalgia car.


---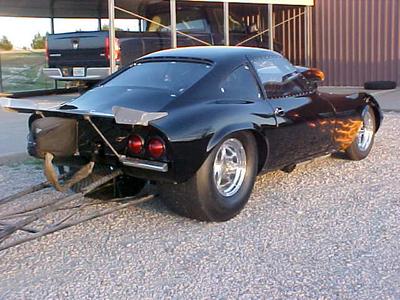 Racingjunk.com, 8/08, $40,000 turn key or $25,000 as a roller. Ad #1260731


Opel GT 540

This little Opel hauls ***! It ran 7.40 in the quarter mile at Thunder Valley raceway park on the 4th of July in 100 degree weather. Car weighs 2470 with driver in it. Engine is built with all the best parts. Car has way too much to list here
---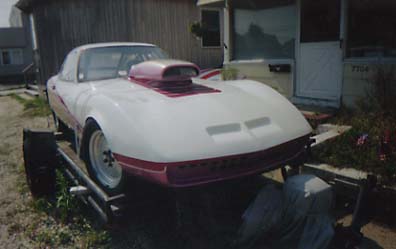 cacars.com, 1/09, $19k

1972, Opel GT Race Car, Exterior: Pearl White ACCEPTING OFFERS! Good Condition, Tube Chassis Custom Built Car, 4 Link 9 Inch Ford Suspension, Automatic 2 Speed Power Glide Electric w/Shifter Transmission, Car Can Have A GM, Chrysler, Or Ford Small Or Large Block Motor Put In, 10 Inch Stretch, No Interior, Roll Bar, Racing Seats, Aluminum Interior, NHRA Cert. 7.5 Sec. Car, Car Looks Good From 30 Feet, Motor Optional.
---
Project Cars
---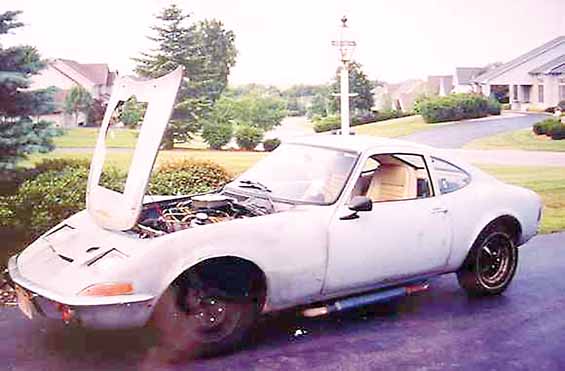 Collectorcartrader.com, 10/05. Asking $4,250. Relisted on Collectorcartrader 3/06, again asking $4,250.
This one was interesting, looks like square headlights modified to pop up in the more conventional fashion, rather than the stock round roll-over lights. Maybe an homage to the original Opel GT concept cars?
1970 OPEL GT, German Corvette, super fast, Ford V8, reblt C-4 Trans, white leather interior, no body rot, also selling extra parts, $4250
---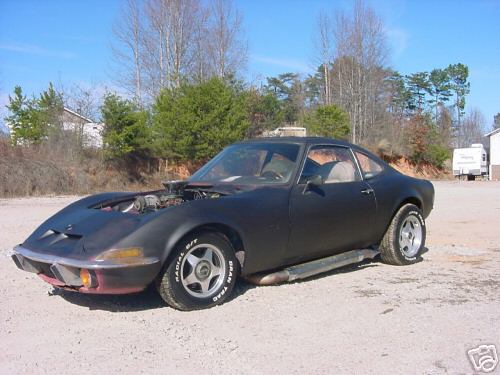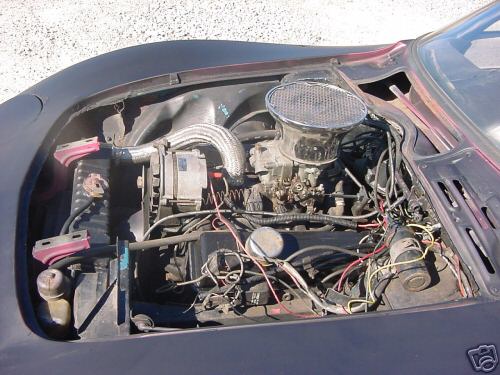 Ebay, 3/06, Sold for $1,942.11
This car was missing the rear deck panel (what would have been the trunk lid, if the GT had a trunk). Ground clearance seems minimal. Still a good deal for a project car.
YOU ARE VIEWING A 1970 OPEL GT, IT HAS A SMALL BLOCK CHEVY , POWERGLIDE TRANS , TEN BOLT REAR END AND FOURLINK . THIS IS A NEAT LITTLE PROJECT CAR , BUT IT IS A PROJECT , IT WILL MAKE A COOL RAT ROD , HOT ROD PROJECT OR AN EVEN BETTER DRAG CAR, IT HAS DISC BRAKES IN THE FRONT RACK AND PINION STEERING ELECTRIC FUEL PUMP, AND ELECTRIC FAN,IT ALSO HAS HEADERS AND SIDE PIPES WITH CHROME HEAT SHEILDS, THE MAIN POWER,FAN, AND FUEL PUMP ARE CONTROLLED BY SWITCHES IN A PANEL WITH A PUSH TO START BUTTON THE INTERIOR IS DONE IN WHITE TWEED IN NEED OF A GOOD CLEANING , I ALSO HAVE A THE BACK WINDSHIELD AND HOOD WITH COWL INDUCTION TYPE SCOOP . IT HAS A SMALL GAUGE CLUSTER , TEMP , OIL PRES , VOLTS
---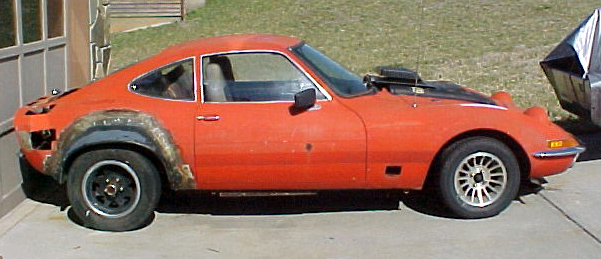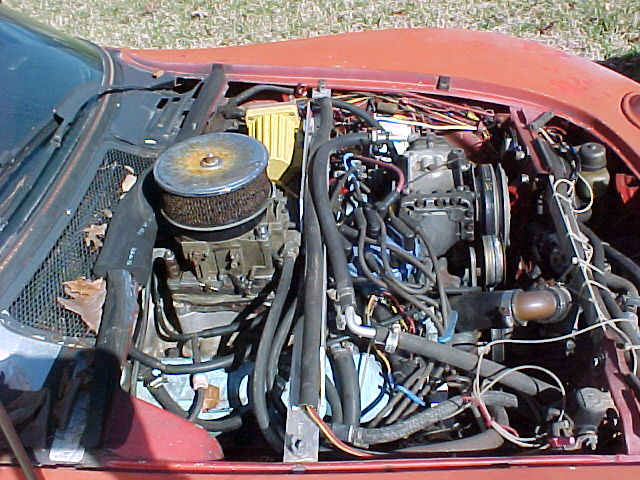 Collectorcartrader, 3/06, $3,000
Looked really tight under the hood, most likely owing to the A/C multiple radiator set up. Still a good amount of sheet metal work left to be done.
1973 OPEL GT- OVER $10,000 INVESTEDENGINEFord 302 c.i. engine;(ALL WORK DONE LESS THAN 500 MILES AGO) complete head job; Ported heads; pinned rocker posts; Competition Cams roller rocker arms; Ford SVO hydraulic competition cam; new lifters; Melling high volume oil pump; oil filter relocated to clear steering; oil cooler with thermostatically controlled valve installed. Oil capacity is about 6 quarts. Engine mounted in chassis with anti-torque mounts. Rebuilt Carter Quadrajet. The engine is equipped with an anti-torque system.Ford Electronic distributor with Accel Super Coil controlled by MSD 6 electronic ignition. Engine had about 70,000 miles on it when installed in car. New clutch and pressure plate/throwout bearing; new starter; new alternator; new voltage regulator; custom single belt drive system with accessories relocated lower for hood clearance; air conditioner system installed. Engine is set back; front pulley is over the front axle. New water pump; Engine is cooled by 3 radiators ? two in front and one in the rear, cooled by 2 electric fans. TRANSMISSIONNew bell housing from SVO; rebuilt 4 speed RAN transmission from 82 Mustang. 4 speed synchronized 30% overdrive. DIFFERENTIALFord 9?. 3.00 open (not positraction) gear ratio. 11? brake drums; Final drive ratio in 4th gear of 2.10 ? cruise at 70 mph at about 2500 rpm. Rear brake to front brake bias adjustable proportioning valve located under drivers seat. Rear end is mounted to keep original geometry.Adjustable Panhard rod. Original coil springs with air bags. Gabriel strider shocks. Custom made shortened welded and balanced drive shaft.WHEELSComes with 4 ea. 4 lug 13x6 Western Turbine mag wheels and 4 Reiken 205xH60 radial tires. 2 are mounted on the front of the car. Rear end of car has Ford 5 lug 14x6 wheels and 185x70 radials. 73 OPEL GT CHASSISThe ?tunnel? for the transmission and driveline is made of 1/16 inch stainless steel. '73 was the only model with rear window-vents that opened. ?ADCO? sway bars both front and rear. High pressure gas shocks. New brake disks and semi-metallic pads. Conversion adapters to convert the front end to Ford 5 lug. EMPI fiberglass ?whale tail? for the rear. The rear wheel wells have fiberglass flairs to cover the wider Ford rear end and rear wheels. Engine compartment has Monte Carlo bar bracing. Halogen H-4 headlights and wiring upgrades.SHOP MANUALSComes with Complete shop manual with wiring diagrams. Additional Clymer service manual included along with all records of parts used in conversion.PICTURESPictures are available in JPG format. INFO NOT ALL INCLUSIVEI?ve done so much to this car, I can?t even remember all the changes I have made to it. I?m sure you?ll see many more that I haven?t mentioned here
---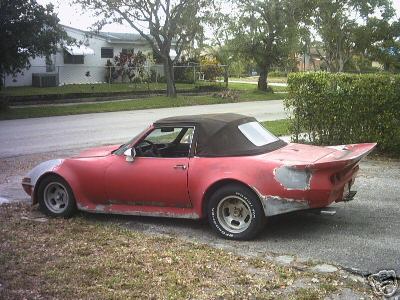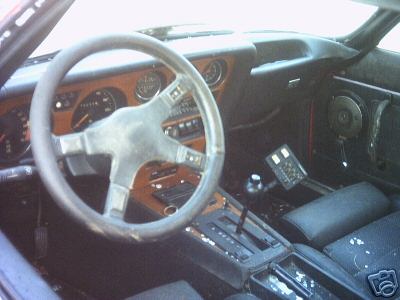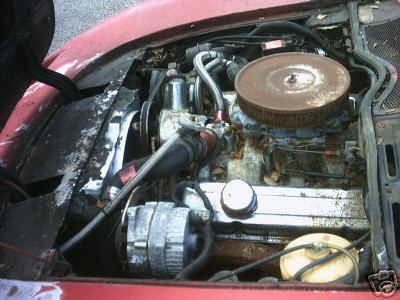 Ebay, 3/06, sold for $2,125
Custom 1970 Opel GT. Rare Convertible. Car has not been started since 1999, but ran excellent prior to that date when it went into storage. Needs alot of T.L.C. and a paint job. Some minor rust that needs to be repaired prior to painting. Driver side window is missing and needs to be replaced. This could be a Super Head Turner and Show Stopper. Car is sold as is. Buyer will arrange and pay for all towing/transportation cost/expenses from Sellers premises in Hollywood, Fla.
Specs -
-Custom modified Mercedes Benz Convertible Top and metal Lid Boot (has a tear on side). -American Racing Alloy Wide Wheels -Daytona Corvette rear body Tail with built in remote opening baggage trunk. -Recaro type adjustable bucket seats. Custom upholsterd to match original, and includes upholstered rear cargo area (some mildew on seats). -Blaupunkt Houston Radio with remote "gooseneck" EQ. -Solid Teakwood Dash Instruments Cover. -Small Block 350/5.7 engine. 650 Spreadbore Four Barrel Holley Carb with vaccum secondaries., Rhoades Lifters, Crane Camshaft, Borg Warner TH-350 auto transmission, 1979 Chevy Monza 2.73 "Posi-Traction" rear, Ford hydraulic Rack and Pinion Power Steering, New (never used) air conditioning, Dual remote Cooling radiators, Remote Transmission Cooling Radiator, Hydraulic Power Brakes, Cruise Control, Holley 110 electric fuel pump, Adjustable GM tilt steering column and Leather steering wheel, Etc., Etc
---
Ebay, 4/06, Starting bid of $3,750, lowered to $3,400. No bids.
Racingjunk, 4/06, $3,500
Lots of aluminum sheet in the interior, and a very wide tranny tunnel.
OPEL GT PRO/STREET PROJECT! (NO MOTOR or TRANSMISSION!) (NO RESERVE AUCTION!!!) One Time (A LONG TIME AGO!) This car was a World of Wheels show car. PRO/STREET with a BLOWN Chevrolet motor. I was told? I do seem to remember seeing the car. ? Over the years other owners done they're toll to the car. It needs Someone, Maybe You? To take it apart and FIX MISC. things like trans tunnel aluminum replaced, Damaged by a hacker? The rear 1/4's have small pieces once cut off tack welded back on? Will need finishing. There is a DENT under the frt. valance that will take some work other wise there is'nt too much other body work. It's really pretty straight. And some other fabrication work to get it back in shape. And be a AWESOME PRO/STREETER AGAIN! The car has a factory VIN.# plate and a CLEAR TITLE. Has a Ford 9" rear with 33spline axels & a 4.89 gear. Ladder Bar coil rear suspension. Rack & pinion steering. Line Lock. Weld wheels, 14X32X15 M/T Slicks. Full Frame & cage. It won't cert. is legal to go 10.0 1/4 mi. ALL ALUMINUM in interior from the trans tunnel in the frt. to the back window is in VERY NICE shape! Powerglide shifter. misc. gages. wiring? (which I would redo) Has a huge radiator in frt. Set-up for a SBC & Glide. All glass windows except windsheild which is missing would be Lexan. Door windows will roll up & down. With some work you can have a GREAT PRO/STREET car, that you won't see every where!
---