Colorado Road Trip
In August of 2008 my wife and I spent 10 days in Colorado. A week-ish in and around Denver and a long weekend in Colorado Springs. At just a hair past 1000 miles, I hesitate to call it a road trip, but I will. Pics and the standard uninformative commentary follow.
Transportation for this trip was a Suzuki XL-7, a free "upgrade" from the mid-sized car I'd reserved, since they had rented all those out. Apparently my understanding of the word "reservation" is outdated. I say "upgrade" because we didn't need the extra space and ended up buying an extra tank of gas or two. Also, the first few days we stayed in a downtown hotel, and had to squeeze the thing in and out of an underground parking garage. One last gripe: Coming down hills in manual mode in 1st or 2nd for engine braking, the RPMs would suddenly drop and the car would start rolling faster, up until 25-30 mph when the RPMs would jump back up and engine braking would resume. Apparently the transmission logic intermittently unlocks the torque converter when coasting, presumably for economy/emissions/NVH reasons. It would be nice if that feature was disabled in manual mode, especially when you're obviously engine braking on a steep grade.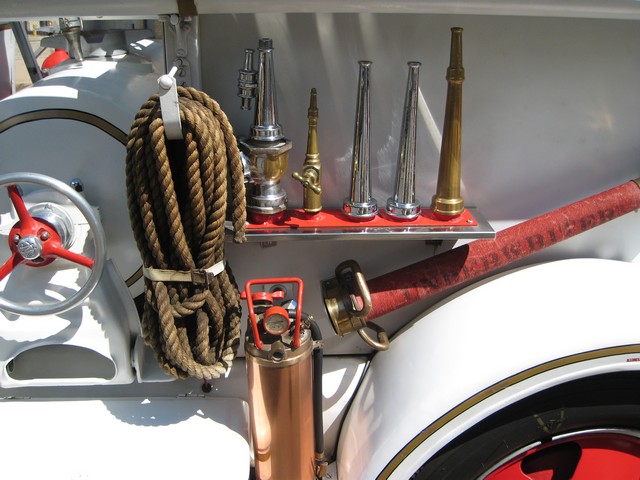 Antique fire truck, found at a street festival sponsored by the Denver Firefighters Museum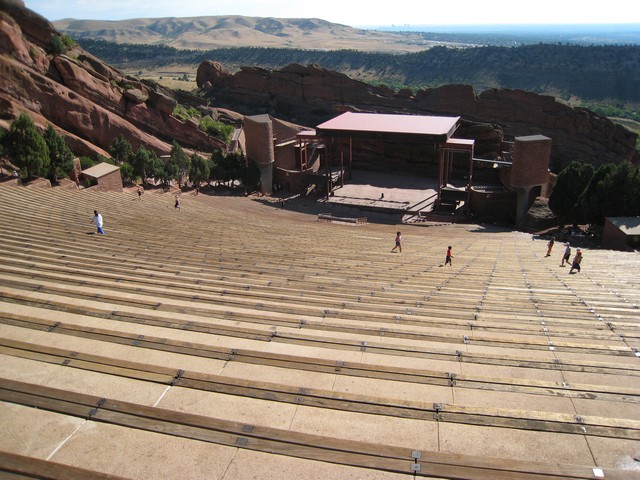 The amphitheatre at Red Rocks. A few hundred people were running stairs, practicing yoga, and generally being healthy. Good on them.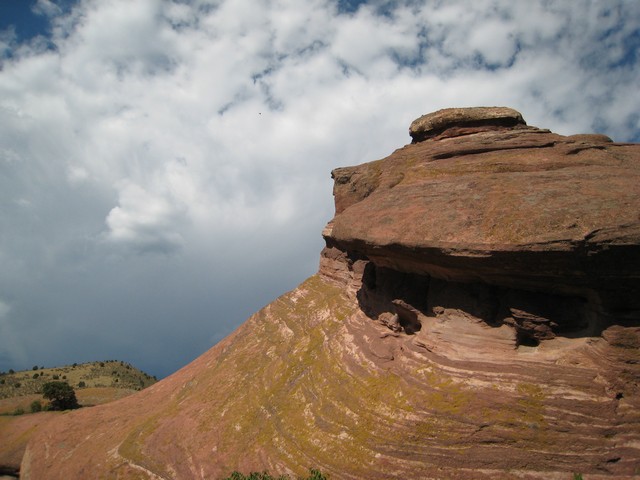 Rocks and nice sky backdrop along the Trading Post loop trail. The black spot in the clouds is a bird, not a dead pixel. Trust me.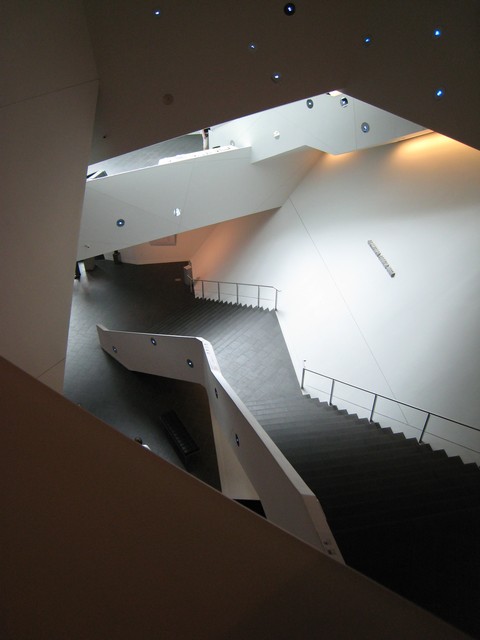 Stairs at the Denver Art Museum. The LEDs count off digits at a pace suggested by random Denverites. On the whole, it's one of the better art museums I've been too, and worth multiple days of your time.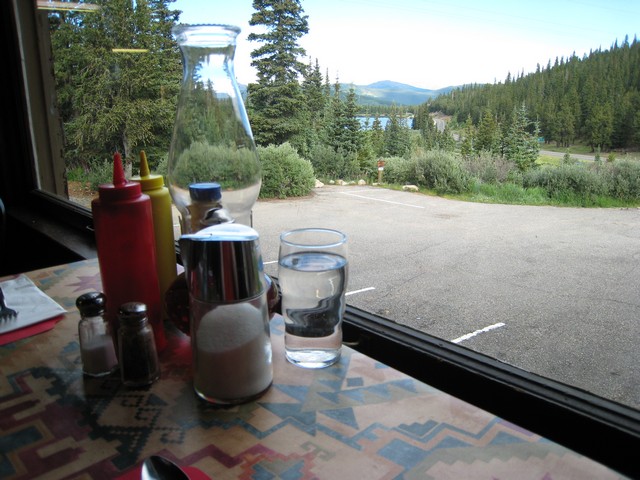 Before heading up Mount Evans I had breakfast at the lodge at Echo Lake. Here's the view. Food and service wasn't bad, either. Get there early.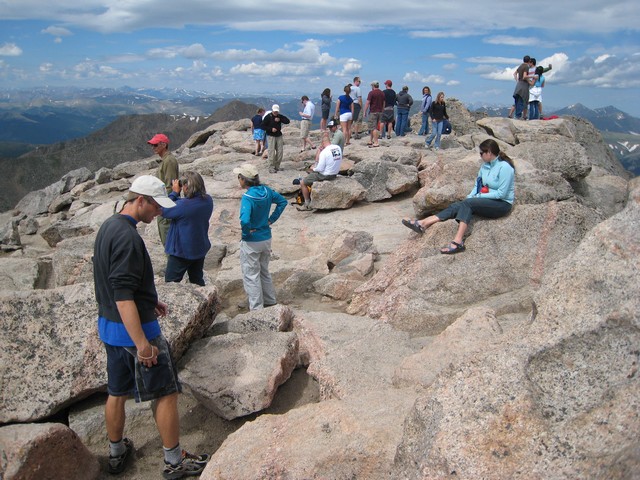 As it turns out, it is in fact NOT lonely at the top, especially if you go in early afternoon.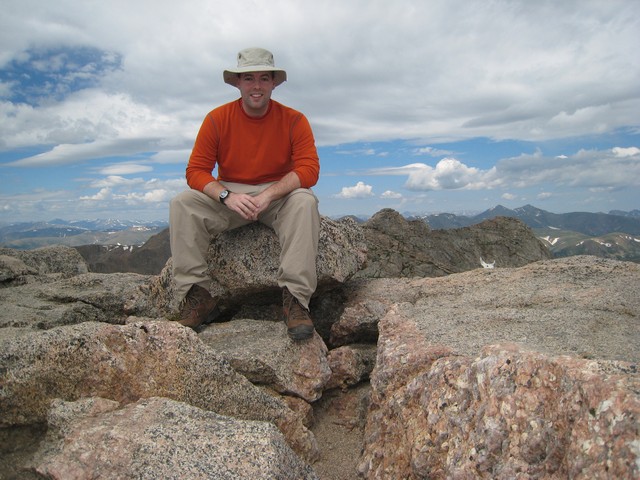 Myself, on the summit of Mount Evans.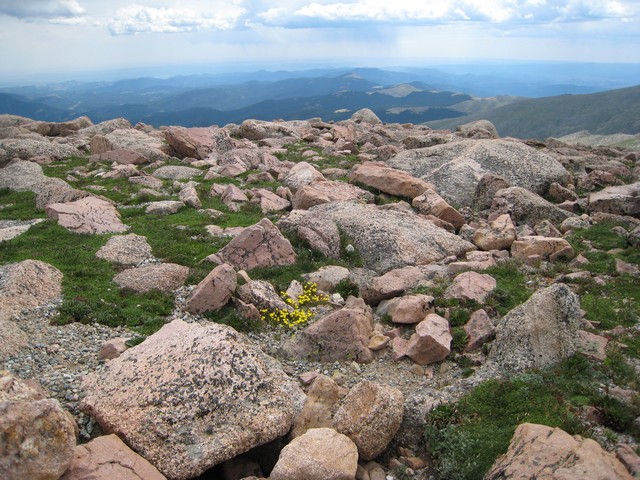 View out from Mount Evans, just past the observatory. Note the flowers in the foreground providing a much needed splash of color.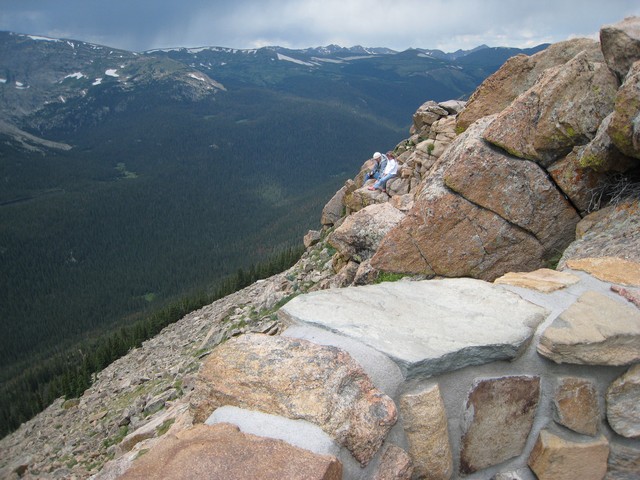 Rocky Mountain National Park (hereafter RMNP because I'm lazy). The wall in the foreground is to keep you from climbing out on the cliff face to have lunch with your eight-year-old daughter. Obviously, it didn't work.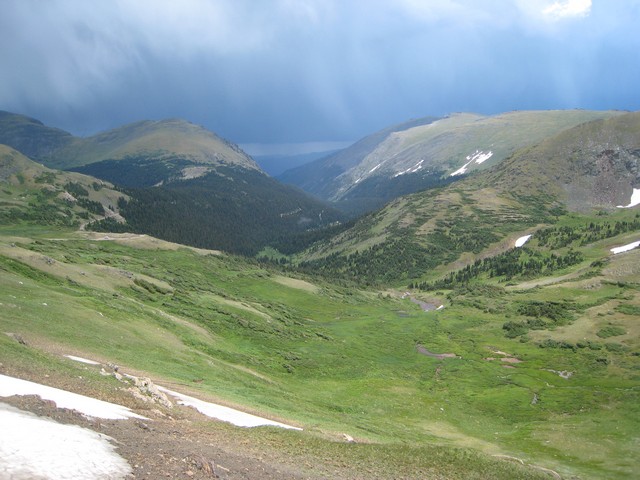 Looking down from Trail Ridge Road, the "highest paved through-road" in the United States. Presumably those qualifiers distinguish it from the numerous higher unpaved non-through roads. Don't ask me, I just work here.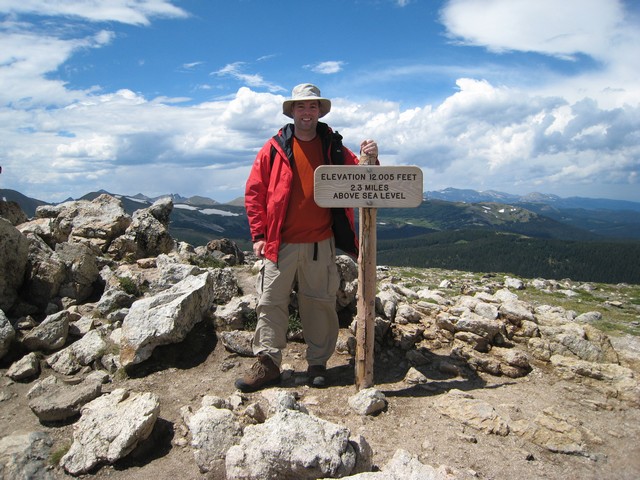 Myself at the summit near the Alpine Visitor's Center in RMNP. 12,005 feet is only 2.2737 miles by my math, but I'm something of a stickler for significant digits.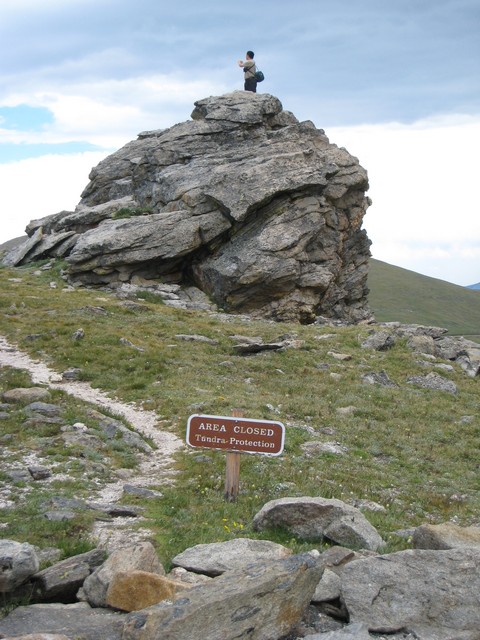 A sign, and someone who apparently didn't read it. An occurrence all too common.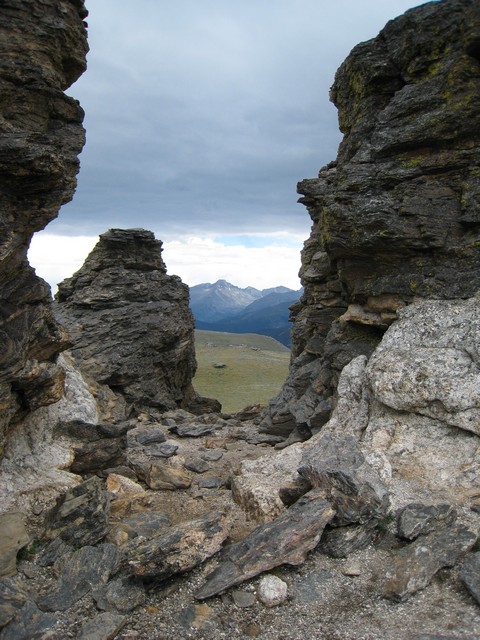 Looking back east through some pillars at Rock Cut in RMNP.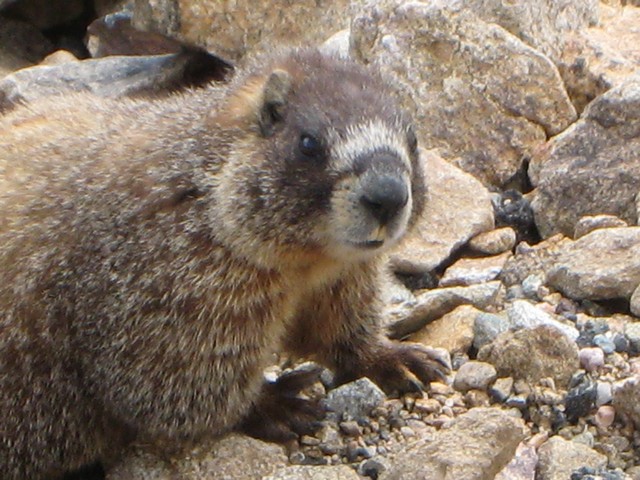 Marty the marmot says "Digital zoom on consumer point-n-shoots is worthless. Except on me, for I am DAMN HANDSOME"

Dream lake, halfway up the hike to Emerald lake. Nymph lake (1/3rd the way up) isn't worth the trouble. Go all the way to Emerald or give it a miss.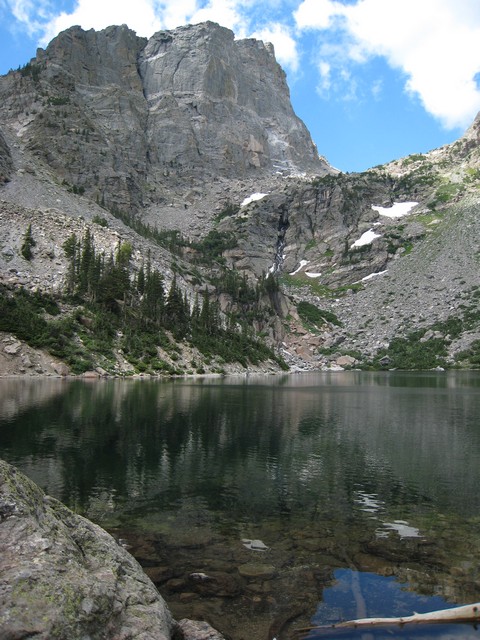 Emerald lake, a rather crowded (and rightfully so) back country lake.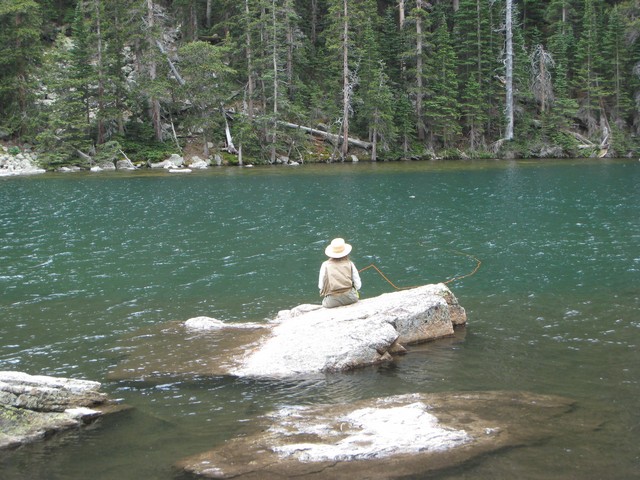 Unidentified woman fishing on Dream Lake. She was later identified as Madeline Albright.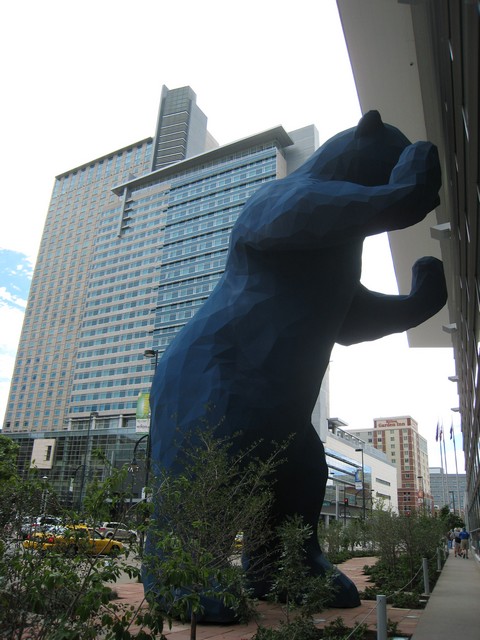 Giant bear about to devour the Denver Convention Center.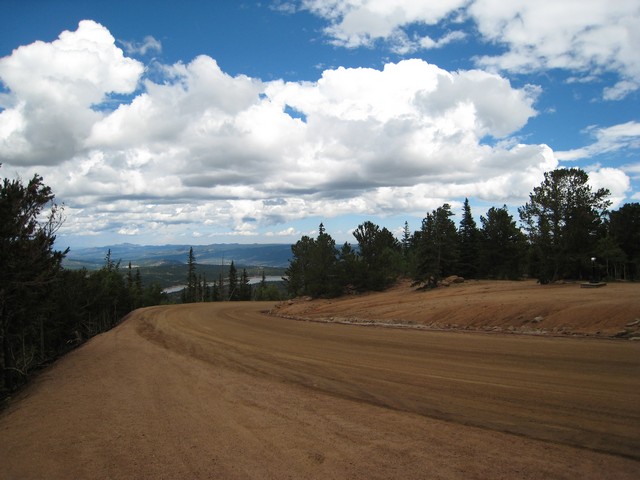 The road up to Pikes Peak. Sadly, we didn't break the 10 minute mark due to a grossly underpowered rental car.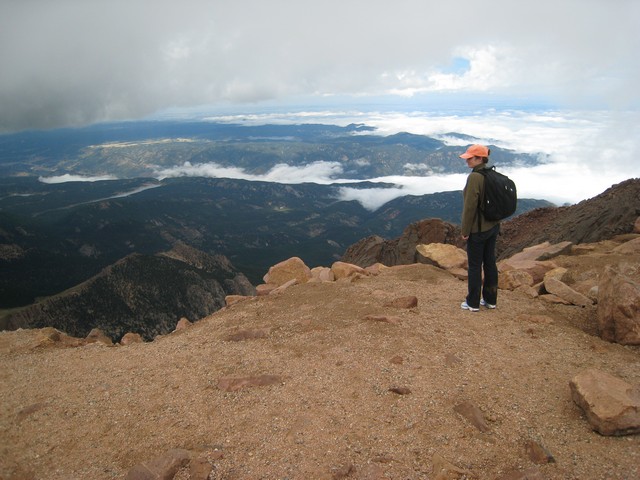 Laura Lee at the summit of Pikes Peak, about 60 seconds before we got socked in and the view vanished. Good timing and all that.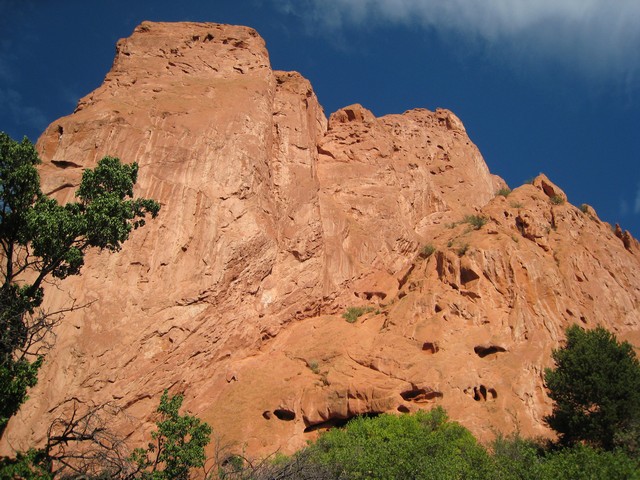 Garden of the Gods (hereafter GoG because I'm lazy) in Colorado Springs. One of the more photogenic places in all of Colorado.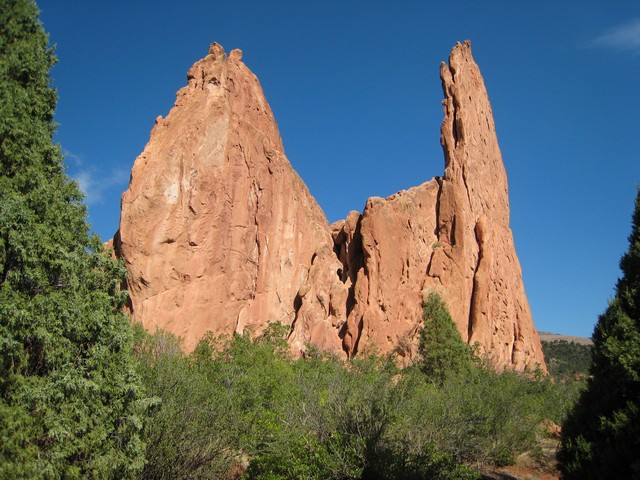 Another shot from GoG. Lots more here.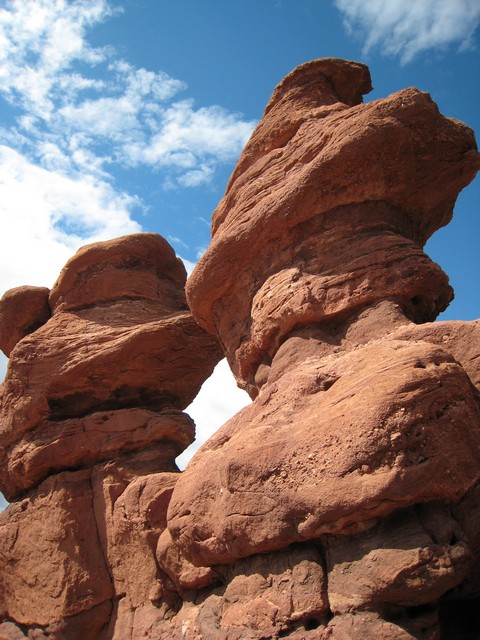 Siamese Twins at GoG.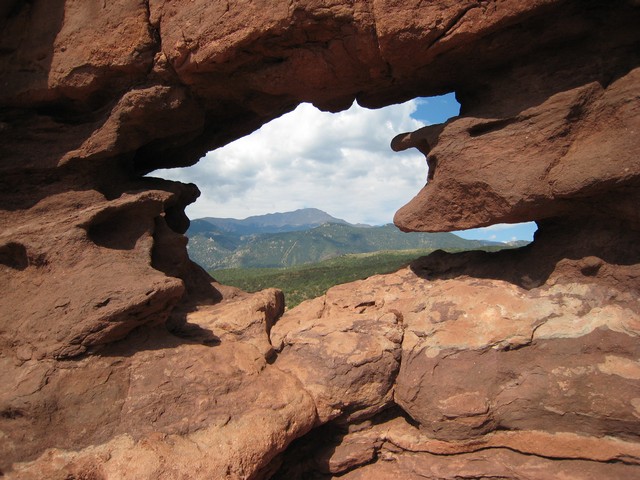 Looking west towards Pike's Peak through the window at Siamese Twins in GoG.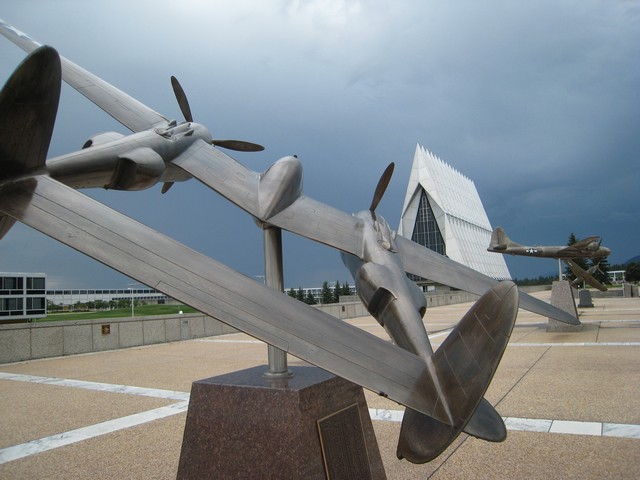 A sculpture of a P-38 at the U.S. Air Force Academy, with the academy chapel in the background. Lots to see, worth half a day or so, and free.
So there you have it. Next time out we'll spend more time at Rocky Mountain National Park and hopefully see the other side of the rockies as well.