2K6 Eastern Alaska Road Trip
In June '06 my father, myself, and two of my uncles spent 10 days road tripping through eastern Alaska with my brother Tom, who lives in Anchorage. This page has some photos from the trip, in roughly chronological order. Photos by me except as noted.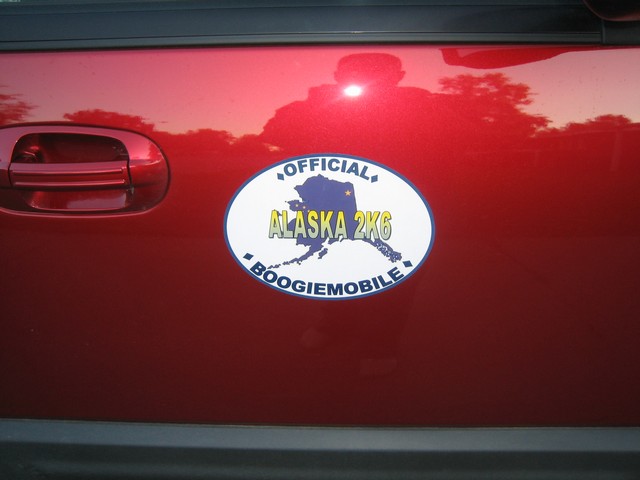 First things first: Upon arriving in Anchorage, I immediately went to [REDACTED] and picked up the keys to the official 2K6 boogiemobile, a Ford Expedition. Five adult males and a weeks' worth of camping gear more than filled it. Should have asked for a Suburban. Also note that the official Boogiemobile markings were mysteriously lost, either at speed due to wind or while parked due to a thief with exquisite taste.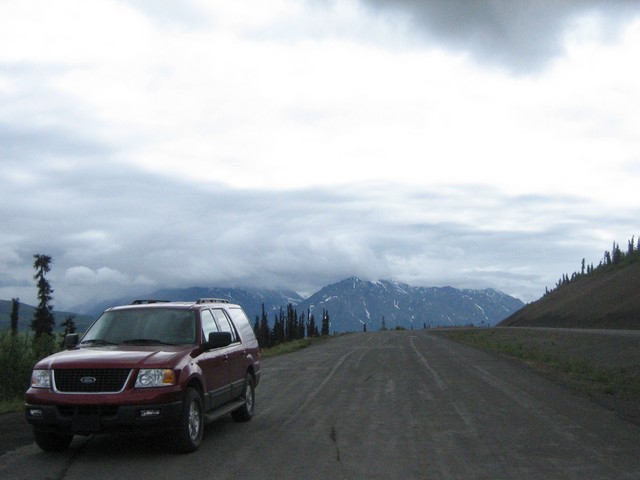 On the road east towards Glen Allen, about mid day on the first day, shortly before afternoon pie stop at the Eureka Roadhouse. Cloudy skies would break just a bit before happy hour.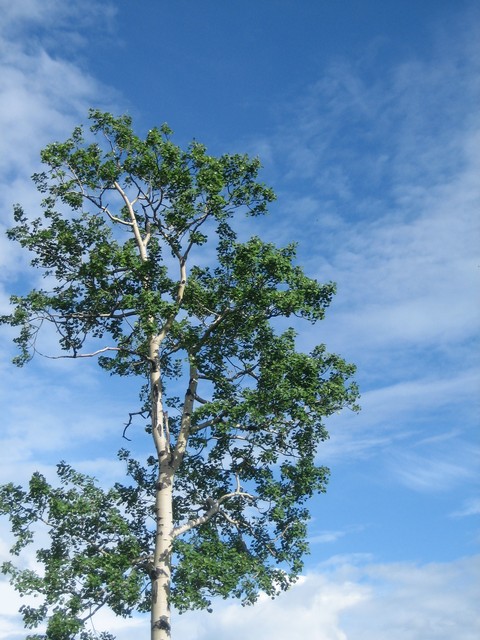 Taken near Copper Center, looking east towards Wrangle St. Elias. Visibility fair to middlin'.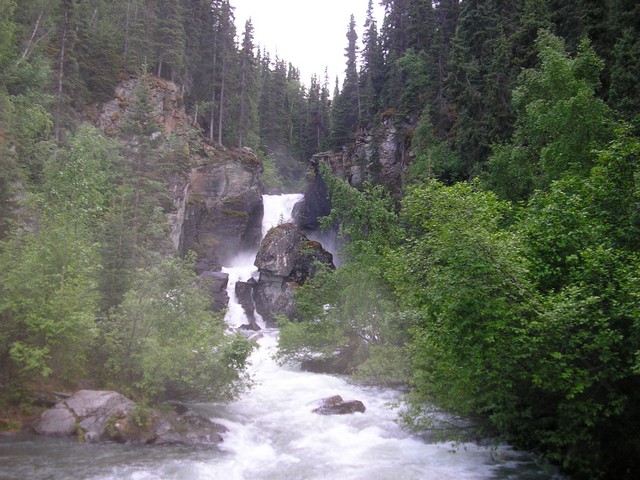 Liberty falls, the first day's camp site. Photo by John Gates. The sound of the falls made for a peaceful night's sleep. Rushing water is nature's Nyquil.

The friendly billionaires at Google have generously allowed me to host this short video on their servers. Ain't they swell.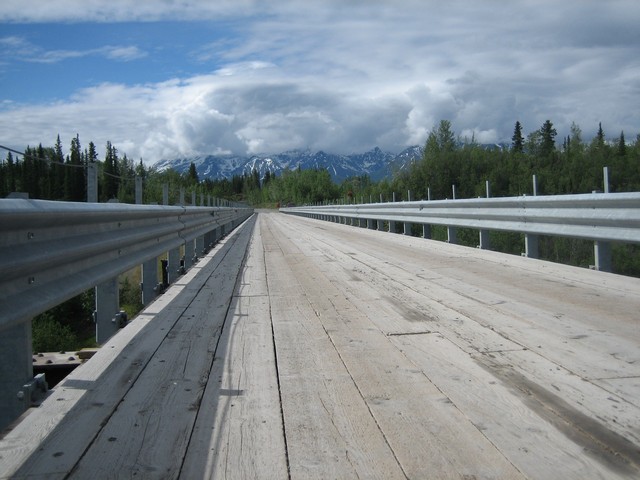 Bridge along the McCarthy Road.

Halibut fish and chips at The New Golden Saloon in McCarthy, which was the sight of a great epiphany. To wit: McCarthy has a year round population of about forty people. Getting there requires a three hour drive on a gravel road, plus a walk of a mile and a half. Despite all this, the restaurant has excellent seafood dishes, fast & freindly service, and a great draft beer selection. So WHAT THE #@%&$ is the excuse for the thousands of restaurants in major metropolitan areas with mediocre service, crappy food, and worse beer? There is NO excuse, which is why all those restaurants are dead to me.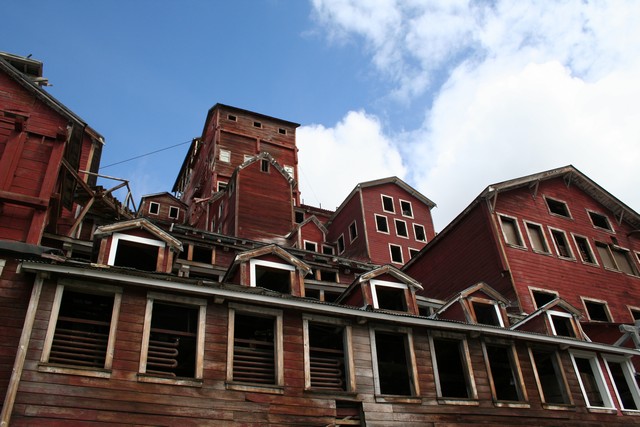 Main mill building of the Kennecott copper mine. Photo by Bill Mason. The mine is in a state of suspended disrepair, pretty much as it was abandoned back in 1938. The park service is working to keep it from collapsing further but isn't doing any restoration.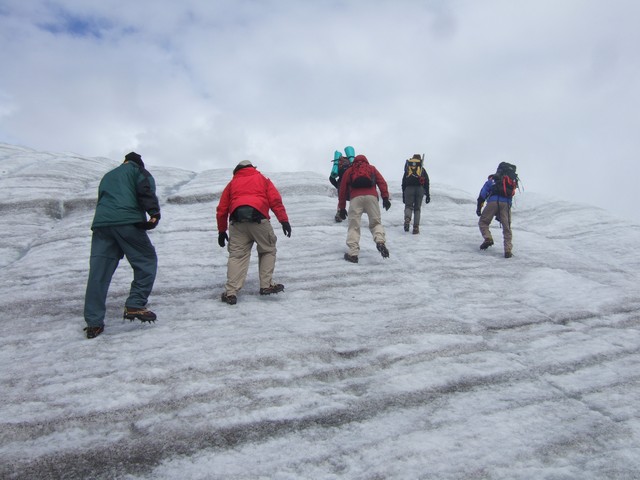 The glacier expidition begins. Photo by Tom Mason. Casualty levels were within reason, given the scope of the mission and size of the deployment.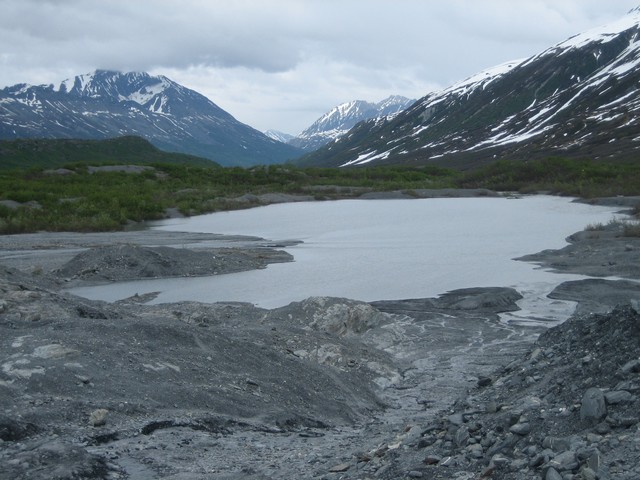 The view out from Worthington glacier, where much ice was harvested.

Panorama movie of said same glacier.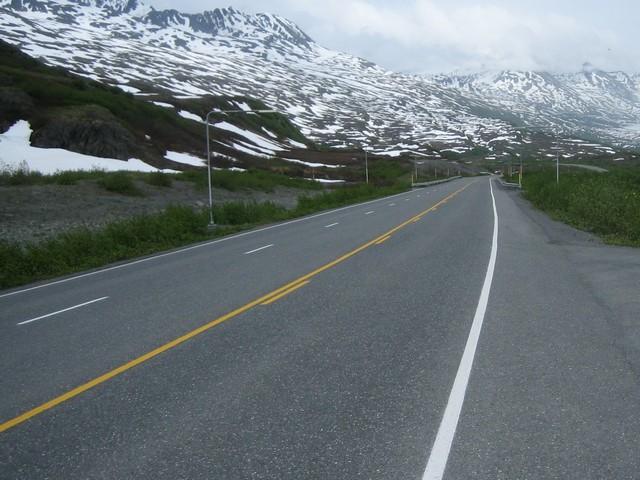 The road just over the crest of Thompson Pass. One of the nicest campsites of the trip. It was empty when we set up camp at ~2pm, and packed with RVs when we returned from dinner at 8pm or so. Road trip lesson #17: An early start and heavy right foot keeps you ahead of the blue hairs.

Panorama from the campsite on Blueberry Lake. Clear water, cool breezes, and friendly (non-biting) mosquitos.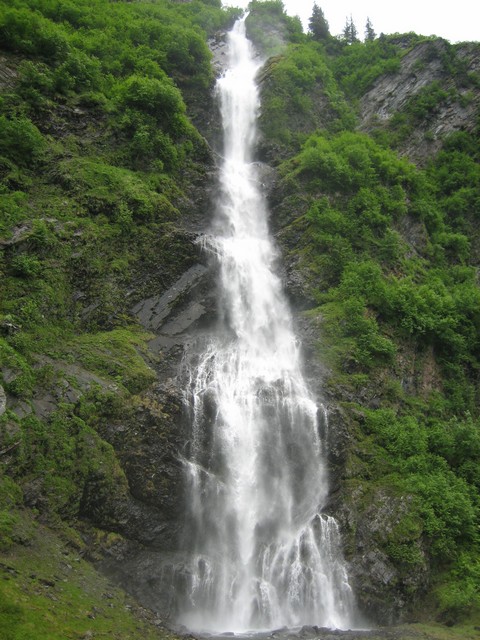 Bridal Falls on the way to Valdez. The descent from the pass down to Valdez is one very nice stretch of road, scenery wise. It's even better during/after a heavy rain. How many places can you say that about?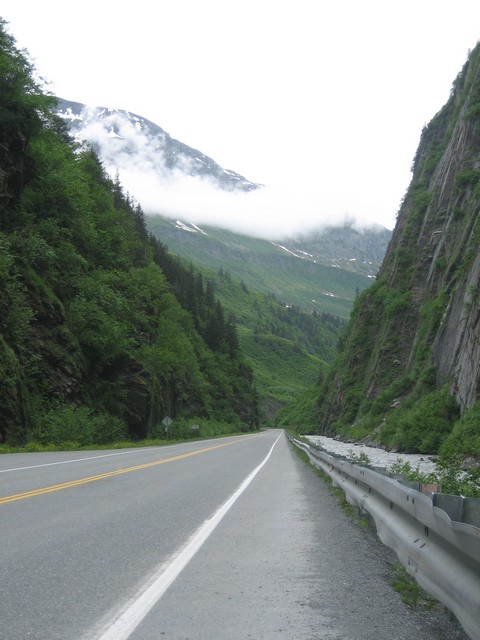 A bend in the road....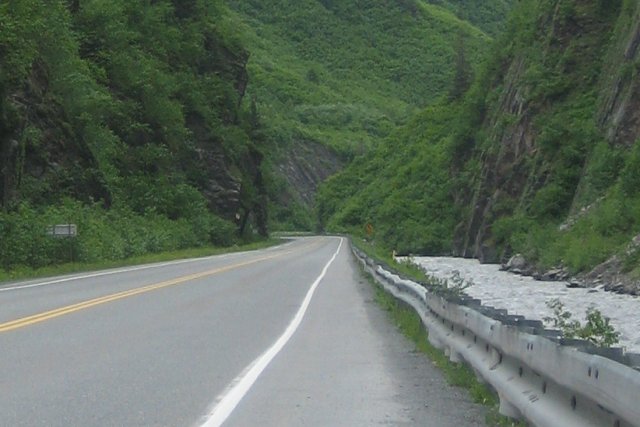 I showed that last pic just to show this one, zoomed in a bit, and hence a bit grainy. Mouse over it to see the same stretch of road after a flash flood in the fall of '06. I find it odd that the yellow caution sign is still standing despite half the roadbed being swept away.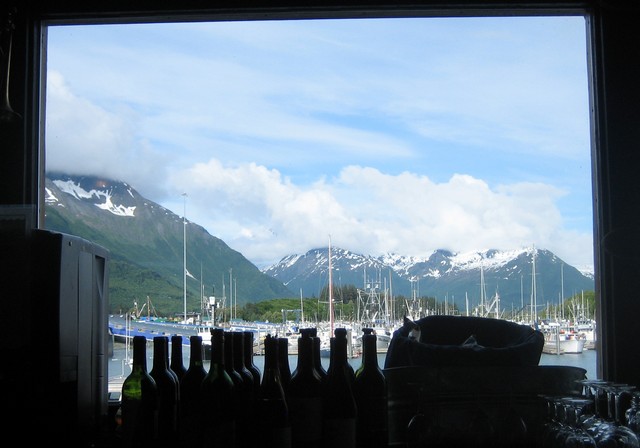 The view from a bar in Valdez. Great place to enjoy a few before heading back to camp. You can also check out the stool Captain Hazlewood sat in for far too long before getting behind the wheel of an oil tanker.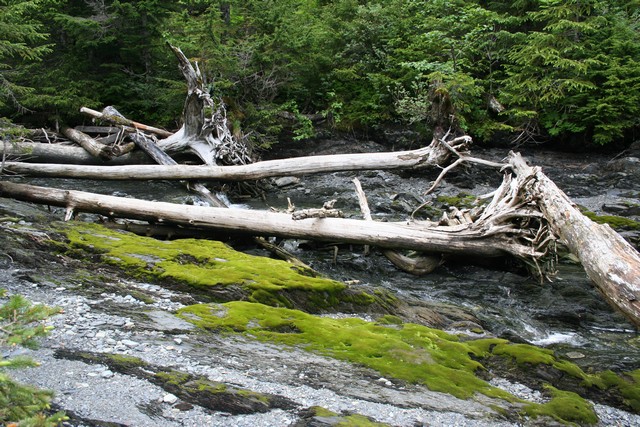 Scenic moss photo courtesy of Bill Mason. Taken somewhere off Cove Creek road in Whittier.

The one lane, one way tunnel heading out of Whittier. You'd think they'd periodically reverse the flow of traffic so you could drive IN to Whittier, but apparently the demand just isn't there.

Yet one more panorama, this one from a yurt campsite on Eagle River in Chugach State Park.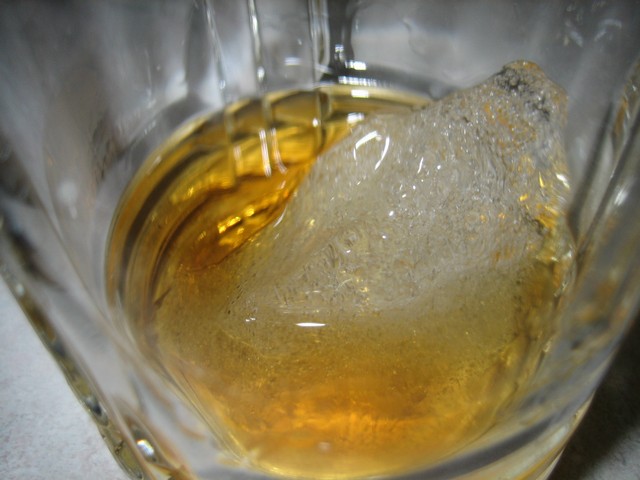 Glacier ice nobly gives its life to improve my bourbon. Its sacrifice shall not be in vain.